Same Day Music is an
authorized Rane dealer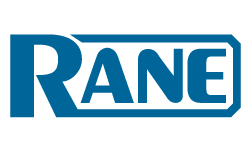 The Rane SIXTY-FOUR is a four-channel club mixer with dual USB ports, allowing for effortless DJ changeover and back-to-back performance. Comes with a range of built-in effects and supports Serato Noise Map Vinyl/CD control in Serato DJ. Built-in control over 30 powerful Serato DJ features including Library, Cues, Loops, SP-6, Sync, Slip Mode and more. Built to Rane's high standards of quality and performance.
Rane and Serato continue their ten-year partnership with Rane's professionally-crafted, art-expanding instruments integrated with Serato's world-famous digital vinyl emulation software.
Rane is pleased to introduce the Rane Sixty-Four mixer for Serato DJ software. This bundled combination is uniquely qualified to meet the mixing needs of a wide variety of DJ genre. It is equally accommodating whether you're mixing analog, DVS, digital or a combination of these. The Sixty-Four is the ultimate plug-and-play mixer, allowing you to take remixing and music production to a greater level.
Tight integration with Serato DJ software provides intuitive control of Serato DJ features like Libraries, Sync, Slip, Jump-to-loop and Samples, all without taking your eyes off the mixer or packing extra controllers.
Quickly and easily add and remove audio channels from the FlexFx loop to gain access to six built-in effects, post-fader Serato DJ iZotope effects and an external effects processor, in any combination!
With two computers connected, simply switch a mixer source selector to instantly assign audio and MIDI to the desired USB port. Each port features a 22-channel soundcard, providing the resource you need for music production, remixing and routing Serato DJ iZotope effects to your post-fader mix.
Hardware Features:
- Four-Channel club mixer
- Dual USB ports for DJ handover and back-to-back performance
- Built-in Serato DJ feature control
- 32-bit floating-point audio sampled at 48kHz
- Rane ASIO and Core Audio Drivers for Serato DJ
- Advanced MIDI and audio routing
- Pre-fader level 3-band isolator EQ, Low-pass/High-pass sweep filter
- Advanced post-fader FlexFX bus with 6 internal effects, plus USB insert loop for post-fader software effects for each of the two ports.
- Two independent microphone inputs with On/Off, Level, Pan, Tone and FlexEX assign for each mic
- one with 48V phantom power switch.
Serato DJ Features:
- FX, powered by iZotope.
- FX Expansion Packs that can be purchased/activated in app
- Single and Multi FX modes
- Sync
- Slip Mode
- Recording
- MIDI Mapping
- SP-6 with simple and advanced modes
- Up to 8 cue points
- Activate or jump to 8 of your saved loop slots
- Auto loops and loop rolls
- Mic/Aux support
- 4 Performance view modes
- Autoplay
Same Day Music is an authorized dealer of
Rane
products.
Analog Audio Inputs:
- 4 Stereo unbalanced RCA jacks
- Phono, CD switchable on rear panel
- Phono Response RIAA
System Requirements:
- Windows, 32-bit: Windows 7, 2.0 GHz Core 2 Duo, 2 GB RAM
- Windows, 64-bit: Windows 7, 2.4 GHz Core 2 Duo, 4 GB RAM
- Mac, 32-bit: Mac OS X 10.6, 10.7, or 10.8, 2.0 GHz Core 2 Duo, 1 GB RAM
- Mac, 64-bit: Mac OS X 10.6, 10.7, or 10.8, 2.4 GHz Core 2 Duo, 4 GB RAM
- Display resolution for all: 1280 x 720 or higher
- Available USB 2.0 port
Same Day Music is an authorized dealer of
Rane
products.