Same Day Music is an
authorized Rock On Audio dealer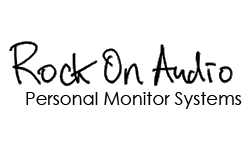 The innovative RockBox makes in-ear monitoring simple. This monitor system is truly unique, because it uses one cable for both your instrument signal and your monitor mix. It will speed up your sound check and ensure a great monitor mix at every show.
Features
- Built-in Limiting!
- Larger input range accepts signals of up to 7.5V for less distortion
- Larger multi-color LED tells you if your level is at Speaker (green) or Line (blue)
- 1/4 inch TRS output jack convenient for drummers and studio sessions
- Adjustable Power Polarity for easy daisy chaining and less cable adaptors
- Small size providing extra space on your pedal board
No matter what you send into the system (i.e. squealing feedback), the output is limited to a safe level for your ears. Using in-ear monitors in a live performance can be dangerous. Without limiting the audio that hits your ears, unintended loud sounds (most importantly, feedback) can blast your ears. The Rock Box Limiter is designed to protect your ears. It has a set maximum output level and will never exceed this. So turn it up, don't worry and rock on!
Why Chose RockOn?
- No Radio Interference. With the Rockon System, you have a wired connection to your monitor mix. This eliminate the need for any wireless equipment and therefore eliminates the possibility of radio interference.
- No Hip Pack or Batteries. The Rockbox Limiter sits on the ground (or more ideally - on your pedal board) and is powered by a 9V power adaptor. This eliminates the need for any batteries. Also because of the in-line 1/8" headphone jack on the rockon cable, you no longer need a hip-pack!
- Use stage monitors AND your in-ears. Everybody wants the FEEL of loud stage monitors and the clarity of in-ears. With the Rockon System, this is now possible. In addition to accepting a standard line-level signal, the RockBox can accept a speaker-line signal. This means you can use the parallel out of a stage monitor to access your monitor mix.
Rock On Audio RockBox Explained
The Rock Box is a headphone amplifier with limiter. The cable is in two sections, the following outlines how those sections are handled:
Instrument section (Send):
You plug the included 1/4-inch cable into your guitar/bass. The female end of the cable gets plugged into another cable which goes to your amp.
Monitor section (Return):
You plug the 1/4-inch TRS end of the included cable into the monitor/headphone output on the rock box. You then plug your headphones/monitors into the 1/8-inch plug on the end of the cable closest to you.
You also need to connect a monitor source to the jacks labeled "parallel in/out"; on the Rock you also have a speaker/line level switch, which you should set depending on the type of signal being sent to the box.
Same Day Music is an authorized dealer of
Rock On Audio
products.