Same Day Music is an
authorized Roland dealer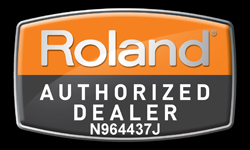 In the studio and on stage, your trusty acoustic sax is always by your side. But if you work across a range of musical genres, imagine how useful it would be to own a single wind instrument that delivers every sound that's required. The Roland Aerophone AE-10 is a trailblazing digital wind instrument that fuses traditional sax fingering with the flexible onboard tones you need. Seasoned players will feel instantly at home with the familiar saxophone fingering system, responsive SuperNATURAL sounds, and a breath sensor that reacts like your favorite acoustic horn. The large sound selection faithfully recreates saxophone models from soprano to baritone, plus wind instruments like clarinet and trumpet, string instruments, and even synths. With built-in speakers, battery power capability, and DAW connectivity, the Roland Aerophone AE-10 is the versatile, play-anywhere choice that supports you in every musical scenario.
Start Playing Immediately with Traditional Sax Fingering and a Responsive Breath Sensor
You've worked hard to nail your sax technique, but most digital horns make you master a new fingering system, which can be a major setback. With the Roland Aerophone AE-10, it's a smooth transition, thanks to a layout that's similar to your favorite acoustic sax--right down to the left-hand octave key. Plus, the AE-10 has a sensitive mouthpiece-mounted breath sensor that also functions as a bite sensor, allowing expressive techniques like vibrato and pitch. Even beginners will be able to enjoy playing the various onboard sounds straight away.
All the Saxophone Sounds You Need in One Instrument
Nothing beats the sound of your favorite acoustic sax, but sometimes its tone might not be quite right for the job at hand. Whatever scenario you're playing in, the Roland Aerophone AE-10 has the onboard digital sax sounds you need. Choose from alto, tenor, soprano, and baritone sax types that all respond just like their acoustic counterparts to your playing dynamics and articulation, thanks to Roland's advanced SuperNATURAL modeling technology. Alongside individual sounds, you can pull off a seamless performance with the Full Range feature, automatically switching between sax types by key range.
A Variety of Realistic Acoustic Instruments and Roland's Award-Winning Synths
There's nothing worse than a studio session grinding to a halt because you need an instrument that you haven't brought along. That won't happen with the Roland Aerophone AE-10, which gives you a variety of additional acoustic instrument sounds like clarinet, flute, oboe, trumpet, violin, and more, all powered by Roland's SuperNATURAL technology.
Features:
- Digital wind instrument with flexible onboard sounds
- Fingering compatible with an acoustic saxophone
- Mouthpiece features sensitive breath sensor with reed structure for friendly playing feel and control over techniques like vibrato and pitch
- Roland's proprietary SuperNATURAL sound technology reproduces the subtle tonal nuances produced with dynamics and articulation
- Realistic and expressive saxophone sounds include soprano, alto, tenor, and baritone, all instantly transposable to any key with no fingering stress
- Wide variety of additional acoustic sounds include wind instruments (clarinet, flute, and trumpet) and string instruments (violin)
- Roland's latest synth sounds on board, optimized for breath control
- Easy operation with display for selecting sounds and settings
- Onboard monitor speakers and headphones output for playing anytime, anywhere
- Battery operation (6 x AA) for up to seven hours of continuous play
- Easy connection to a computer DAW via USB
- Input for connecting a smartphone or music player for playing along with backing music
Same Day Music is an authorized dealer of
Roland
products.
- Key Layout: Saxophone compatible
- Sound Generator: SuperNATURAL acoustic, PCM synthesizer
- Preset Memory: Tones: 40
- User Memory: Tones: 100
- Effects: Multi-effects, Chorus, Reverb
- Controllers: Breath sensor, Bite sensor, Performance keys, Octave keys, Thumb controller, Tone button
- Display: Custom LCD
- Connectors
- INPUT jack: stereo miniature phone type
- PHONES/OUTPUT jack: stereo 1/4-inch phone type
- USB COMPUTER port (supports USB MIDI)
- DC IN jack
- Internal Speakers: 2.8 cm x 2, 1.5 W x 2
- Power Supply: AC adaptor (DC 5.7 V)
- Current Draw: 418mA
- Dimensions (W x D x H): 128 x 93 x 574 mm / 5-3/64 x 3-31/32 x 22-19/32"
- Weight: 855g / 1.9 lbs 31 oz (including batteries)
- Accessories:
- Owner's manual
- Leaflet "USING THE UNIT SAFELY"
- AC adaptor
- Mouthpiece cap
- Neck strap
- Dedicated hand carry bag
* Carbon-zinc or alkaline batteries cannot be used
Same Day Music is an authorized dealer of
Roland
products.
Shipping Weights and Dimensions

Graphite Black

Shipping Weight: 7 lbs
Shipping Dimensions: 26 x 10 x 7 in

Silver

Shipping Weight: 7 lbs
Shipping Dimensions: 27 x 10 x 7 in