Same Day Music is an
authorized Roland dealer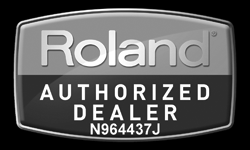 The CUBE-20XL delivers 20 watts of output through a high-performance 8-inch custom speaker. The compact size is perfect for practice at home and band rehearsals, and is conveniently portable. There are two discrete channels, JC Clean and Lead, plus Solo mode for extra boost. Six Boss Lead types are provided, including the Extreme setting. Nine effects are onboard, including Heavy Octave, COSM vintage Spring Reverb, and Power Squeezer for full gain at low volume. An Aux Input allows portable music players to be connected for jamming, while the onboard tuning fork lets you tune your guitar without un-plugging.
Features
- 20-watt guitar amp with 8-inch high-performance speaker
- Two channels: Independent JC Clean and Lead plus Solo function for extra boost
- Boss FX onboard: six Lead types, including the Extreme amp
- Nine effects, including the Heavy Octave and COSM vintage Spring Reverb
- Power Squeezer for full gain at low volume
- Convenient audible tuner lets you tune your guitar without un-plugging
Dual channels
The CUBE-20XL offers two switchable channels: JC Clean and Lead. The Lead channel provides six COSM-powered choices, including Overdrive, Distortion, Metal, Metal Stack, Acoustic Simulator, and Extreme. The JC Clean channel provides pure, transparent tone. Channel switching can be carried out from the top panel or via optional footswitch (Boss FS series, sold separately).
Pro effects
The CUBE-20XL's EFX section provides six types of great-sounding digital effects, including Chorus, Flanger, Phaser, Tremolo, Heavy Octave, plus independent Delay and COSM Spring Reverb. For hands-free selection, an optional footswitch can be used to switch the EFX on and off.
Tuner and aux input
The handy built-in tuner lets you tune while your guitar is connected to the CUBE-20XL. Manual and Chromatic tuning modes are provided. The Tuning Fork function conveniently emits a reference pitch if you wish to hear an audible tone. The Aux Input can accept a portable music player for jam-along sessions with your favourite songs and backing tracks.
COSM defined
Composite Object Sound Modelling (COSM) is Roland's innovative and powerful sound-modelling technology. COSM analyses the many factors that make up the original sound, such as the electrical and physical characteristics of the original, and then produces a digital model that can reproduce the same sound. In designing the CUBE-XL series, Roland meticulously analysed and modelled an array of world-class amps and effects to bring you the versatile and authentic tone palette that these amps provide.
Same Day Music is an authorized dealer of
Roland
products.