Same Day Music is an
authorized Roland dealer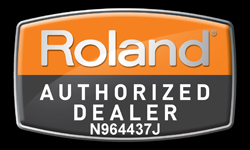 The Roland CUBE-80XL delivers 80 screaming watts of power through its 12" high-performance custom speaker. There are discrete, footswitchable* channels -- JC Clean and Lead -- with Solo settings for each. Twelve COSM amp models are onboard, including Extreme, plus eight effects to choose from, including the Heavy Octave and COSM vintage Spring Reverb, plus an 80-second Phrase Looper. A 3-band EQ with Presence control is provided for detailing your sound.
*Hands-free channel switching is available with footswitch (Boss FS series, sold separately).
Triple-Channel Flexibility
Switch instantly between Lead, JC Clean, and Solo channels. When it's time to shine onstage, activate the Solo mode -- complete with dedicated volume knob and memory for storing your favourite sound setups for the Lead and JC Clean channels. Channels can be selected manually from the control panel or via footswitch (optional).
More, More, More
If you're looking for the biggest sound and biggest feature set of any CUBE guitar amp, the CUBE-80XL is for you. With 12 COSM amp models onboard, an expanded EFX section, 80 roof-raising watts of power, and a 12" high-performance speaker, this amp is ready for any stage, any gig, and practically any musical environment.
Tone Control
The CUBE-80XL offers some key additions for shaping and detailing your sound. In addition to its expanded selection of COSM amps and effects, it provides a Bright switch for the JC Clean channel and a dedicated Presence control in EQ section. Also unique to the CUBE-80XL is an External Speaker output, should you want to enlarge your setup with an optional expansion cabinet.
COSM Defined
Composite Object Sound Modelling (COSM) is Roland's innovative and powerful sound-modelling technology. COSM analyses the many factors that make up the original sound, such as the electrical and physical characteristics of the original, and then produces a digital model that can reproduce the same sound. In designing the CUBE-XL series, Roland meticulously analysed and modelled an array of world-class amps and effects to bring you the versatile and authentic tone palette that these amps provide.
Features
- 80-watt guitar amp with 12-inch high-performance speaker
- Three footswitchable channels, including JC Clean, Lead, and Solo with memory capability
- 11 COSM amp models, including the Extreme amp
- Eight effects, including the Heavy Octave and COSM vintage Spring Reverb
- 80-second Phrase Looper built-in
- Three-band EQ plus Presence control for fine-tuning your sound
- Hands-free channel switching via footswitch (sold separately)
Same Day Music is an authorized dealer of
Roland
products.