Same Day Music is an
authorized Roland dealer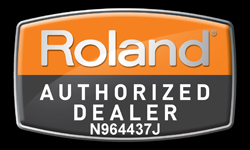 Roland Fantom-G6
Roland's most powerful onstage workstation also has unrivaled studio and music production capabilities. The ability to switch between modes optimized for stage or studio means, from sound source and effects to operation control, you are always constantly prepared in either environment. The Fantom-G is also the first electronic musical instrument to provide SuperNATURAL(tm) sounds via ARX-series expansion boards. Explore a new dimension of musical creativity with the Fantom-G live workstation.
In The Studio...
With STUDIO mode, all facets of the Fantom-G are optimized for the composing and music-creation process. You get access to 16-part layers and up to 22 simultaneous studio-quality effects. The sequencer provides 24 audio tracks and 128 MIDI tracks while the oversize 8.5-inch wide VGA color TFT panel, combined with USB mouse capability, adds more dimensions of comfort and convenience.
...and On The Stage
LIVE mode organizes sound sources and effects for incredible ease and convenience on stage. Using 8-part multi-timbral mode, you can freely adjust settings for layers and splits, maximizing expression onstage. The high quality of the sound sets give you the radically refreshed stage sound, while the keyboard action and SuperNATURAL(tm) expansion sets give you the musical palette for newfound expressiveness. Every feature of the Fatom-G has been designed to completely revitalize your live performance.
Sound Engine
A colossal sound engine has been developed for the Fantom-G series, with double the wave capacity of it's predecessor. The acclaimed stereo multi-sampled 88-key piano sound of the Fantom-X has been resampled and improved for the Fantom-G. Potent upgrading extends to synth, drums, bass, strings, and other fundamental sound sets as well. The wind-instrument sounds, such as the flute and oboe, are particularly expressive. In LIVE mode you can use eight independent parts to freely create layers and splits. While playing live, with the Patch Remain function, sound release and effects are seamless. All you desire for expression during live performance is fully supported right from the sound source.
SuperNATURAL Expansion Board ARX Series
Fatom-G provides two ARX slots for adding SuperNATURAL expansion boardsthe already powerful synth lineup. SuperNATURAL is Roland's unique behavior-modeling technology that enables a new level of organic emotional expression previously unattainable in synthesizers. Applied to the traditional instrument sounds, SuperNATURAL enables the delicate, natural tonal changes and playing nuances of real musical instruments. It's also a powerful tool for electronic and non-traditional sounds, breathing amazing new life and expression into synthesis.
Keyboard System
The flagship synth-action keyboards of the Fantom-G6 and Fantom-G7 are Roland's direct response to field research from world-leading keyboard players incorporating their feedback after testing a variety of prototype designs.
Features Of The Fantom-G6
- Advanced sound engine with double wave capacity of previous flagship workstations
- 2 x ARXexpansion with SuperNATURAL - the world's greatest performance-expression technology
- Graphic user interface with extra-large 8.5-inch wide color LCD and mouse connectivity
- Onboard audio/MIDI sequencer with 128 tracks, including 24 audio tracks
- Multi-FX for each part; up to 22 effects routings can be programmed simultaneously
- Heavy-duty casing with aluminum panel
Same Day Music is an authorized dealer of
Roland
products.
Keyboard and Sound Generator Section
Keyboard: 61 keys, with velocity and channel aftertouch
Maximum Polyphony: 128 voices, shared with the sampling section
Parts: 16 parts (Internal) + 16 parts (External) + 2 parts (ARX)+ 24 parts (Audio Track)
Wave Memory: 256MB (16-bit linear equivalent)
Waveforms: 2,153
Preset Memory:
- Patches: 1,500 + 256 (GM2)
- Rhythm Sets: 64 + 9 (GM2)
- Live Sets: 512
- Studio Sets: 128
User Memory per one project:
- Patches: 512
- Rhythm Sets: 64
- Live Sets: 512
- Studio Sets: 128
Effects:
- Patch Multi-Effects (PFX): 16 systems, 76 types
- Multi-Effects (MFX): 2 systems, 78 types
- Chorus: 1 system, 3 types
- Reverb: 1 system, 10 types
- Input Effects: 1 system, 6 types
- Mastering Effects: 1 system, 3-band compressor
Data Format: 16-bit linear, .WAV or .AIFF
Sampling Frequency: 44.1kHz
Maximum Sampling Time:
- When sampling memory isn't expanded (32MB): mono: 360 sec. approx., stereo: 180 sec. approx.
- When sampling memory is expanded with DIMM (544MB): mono: 108 min. approx., stereo: 54 min. approx.
Number of Samples per one project: 2,000
Sequencer Section
Tracks:
- MIDI tracks (Internal/External/ARX): max. 128
- Audio track: max. 24
- Tempo track: 1
- Beat track: 1
Resolution: 480 TPQN
Tempo: 5.00 to 300.00
Song per one project: 50
Phrase per one project: 2,000
Note Capacity per one project: approx. 1,000,000 notes
Song Length: 9,998 measures
Recording Method:
- Realtime recording
- Step recording
Controllers
Pitch Bend/Modulation Lever
Control Knob x 4
Control Slider x 8
Assignable Switch x 2
D Beam Controller
Connectors
Headphones Jack: Stereo 1/4 inch phone type
A (MIX) Output Jacks (L/MONO, R): 1/4 inch TRS phone type
B Output Jacks (L, R): 1/4 inch phone type
Input Jacks (L/MONO/MIC, R): 1/4 inch phone type
Mic./Guitar Input Jacks: 1/4 inch phone type / XLR type (Phantom power)(Hi-Z)
Pedal Jacks:
- Hold Pedal Jack (Half Pedal recognition)
- Control Pedal Jack (assignable) x 2
MIDI Connectors: IN, OUT, THRU
USB Connectors:
- USB Computer Connector (supports file transfer or mass storage class, and Audio/MIDI)
- USB Mouse Connector
Digital Audio Interface: COAXIAL INPUT / OUTPUT
Other
Display: Graphic Type, 8.5 inch, Wide VGA (800 x 480 dots), backlit LCD (Color)
Pads: 16 pads, Velocity and Polyphonic Aftertouch sensitive
Expansion for sound generator: ARX expansion boards: 2 slots
Expansion for sampling memory: DIMM: 1 slot, supports PC133, CL=2/3, 3.3 V, 128MB, 256MB, 512MB
External Storage Device: USB Flash Memory
Power Supply: AC 117 V, AC 230 V, AC 240 V (50/60Hz), AC 220 V (60Hz)
Power Consumption: 30 W
Included Accessories
Owner's Manual
CD-ROM (Editor, USB MIDI driver)
Power Cord
Size and Weight
Width: 42 inches (1,066 mm)
Depth: 16-3/16 inches (411 mm)
Height: 5-5/8 inches (142 mm)
Weight: 32 lbs. (14.5 kg)
Power Supply
: Power Cord (Included)
Same Day Music is an authorized dealer of
Roland
products.