Same Day Music is an
authorized Roland dealer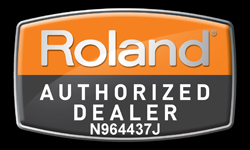 Roland Fantom-G7 76-Key Sampling Workstation. The Fantom-G is a dream instrument that redefines the boundaries of playability and creativity with its advanced sound engine, revolutionary ARX SuperNATURAL expansion bay, large-sized color LCD, powerful new audio/MIDI sequencer and more.
Features
Advanced sound engine with double wave capacity of previous flagship workstations
2 x ARXexpansion with SuperNATURAL - the world's greatest performance-expression technology
Graphic user interface with extra-large 8.5 in. wide color LCD and mouse connectivity
Newly developed onboard audio/MIDI sequencer with 128 tracks, including 24 audio tracks
Multi-FX for each part; up to 22 effects routings can be programmed simultaneously
Heavy-duty casing with aluminum panel
Advanced Sound Engine
Driven by a powerful new audio processor, the Fantom-G provides new sonic depth and versatility. With twice the wave-ROM capacity of its predecessor, it contains a treasure trove of Roland's world-famous SRX-quality sounds, but what really sets this instrument apart is its new ARX expansion, which allows additional SuperNATURAL sound-sets and fully dedicated synth and effects engines to be added to this already powerful live workstation.
SuperNATURAL ARX Expansion
Fantom-G provides ARX slots that accommodate two SuperNATURAL expansion boards. SuperNATURAL is Roland's unique behavior-modeling technology that enables a new level of organic, emotional expression previously unattainable in synthesizers. Applied to traditional-instrument sounds, SuperNATURAL enables the delicate, organic tonal changes and playing nuances of real musical instruments. It's also a powerful tool for electronic and non-traditional sounds, breathing amazing new life and expression into synthesis.
Power Sequencer Onboard
The Fantom-G is the first Roland instrument to feature Roland's newly designed power sequencer. In conjunction with the large-size LCD, this pro-level composition tool provides 128 tracks (including 24 audio tracks) in a fully intergraded audio/MIDI graphical environment. A mouse can be also incorporated for computer-like speed and ease. Other convenient features include combo XLR and TRS connector, phantom power for condenser mics, Hi-Z input for guitar and bass, and line input.
Luxurious Extra-Wide LCD
One look and touch and you'll know that the Fantom-G is an instrument without equal. Only the highest-quality materials have been used to create this dream synth, with a stylish, futuristic design that will turn heads. Front and center is the extra-large 8.5" wide TFT color LCD for enhanced productivity. A first-class assortment of hands- on controls is provided as well, including eight sliders, four knobs, and ten buttons below the LCD.
Amazing FX
Fantom-G is loaded with a state-of-the-art effects engine, with multi-effects available for each Fantom-G sound/part. In 16-part multi-timbre mode, up to 22 effect routings can be used simultaneously. Create complex setups with 16 insert effects per multi-timbral patch group, plus global reverbs and choruses. Mastering effects are provided for polishing songs created with the onboard sequencer.
Supreme Keyboard Feel & Action
The Fantom-G8 is outfitted with Roland's top-of-the-line PHA II "Ivory Feel" keyboard. This amazing keyboard technology reproduces the real surface feel of ivory acoustic piano keys providing a familiar stability and comfort to the pianist. The white keys have a two-piece structure which reduces the surface 'click' noise when playing. The newly developed keyboard surface material is designed to absorb moisture, ensuring a secure, slip-proof feel that your fingers will love.
Power Supply:
Power Cord (Included)
Same Day Music is an authorized dealer of
Roland
products.
Keyboard and Sound Generator Section
Keyboard: 76 keys, with velocity and channel aftertouch
Mamimum Polyphony: 128 voices, shared with the sampling section
Parts: 16 parts (Internal) + 16 parts (External) + 2 parts (ARX)+ 24 parts (Audio Track)
Wave Memory: 256MB (16-bit linear equivalent)
Waveforms: 2,153
Preset Memory:
- Patches 1,500 + 256 (GM2)
- Rhythm Sets 64 + 9 (GM2)
- Live Sets 512
- Studio Sets 128
User Memory per one project:
- Patches 512
- Rhythm Sets 64
- Live Sets 512
- Studio Sets 128
Effects
- Patch Multi-Effects (PFX) 16 systems, 76 types
- Multi-Effects (MFX) 2 systems, 78 types
- Chorus 1 system, 3 types
- Reverb 1 system, 10 types
- Input Effects 1 system, 6 types
- Mastering Effects 1 system, 3-band compressor
Data Format: 16-bit linear, .WAV or .AIFF
Sampling Frequency: 44.1kHz
Maximum Sampling Time:
- [When sampling memory isn't expanded (32MB)]
mono: 360 sec. approx., stereo: 180 sec. approx.
- [When sampling memory is expanded with DIMM (544MB)]
mono: 108 min. approx., stereo: 54 min. approx.
Number of Samples per one project: 2,000
Sequencer Section
Tracks:
- MIDI tracks (Internal/External/ARX): max. 128
- Audio track: max. 24
- Tempo track: 1
- Beat track: 1
Resolution: 480 TPQN
Tempo: 5.00 to 300.00
Song per one project: 50
Phrase per one project: 2,000
Note Capacity per one project: approx. 1,000,000 notes
Song Length: 9,998 measures
Recording Method
- Realtime recording
- Step recording
ControllerS
Pitch Bend/Modulation Lever
Control Knob x 4
Control Slider x 8
Assignable Switch x 2
D-Beam Controller
Connectors
Headphones Jack: Stereo 1/4 inch phone type
A (MIX) Output Jacks (L/MONO, R): 1/4 inch TRS phone type
B Output Jacks (L, R): 1/4 inch phone type
Input Jacks (L/MONO/MIC, R): 1/4 inch phone type
Mic./Guitar Input Jacks: 1/4 inch phone type / XLR type (Phantom power)(Hi-Z)
Pedal Jacks:
- Hold Pedal Jack (Half Pedal recognition)
- Control Pedal Jack (assignable) x 2
MIDI Connectors: IN, OUT, THRU
USB Connectors:
- USB Computer Connector (supports file transfer or mass storage class, and Audio/MIDI)
- USB Mouse Connector
Digital Audio Interface:
- COAXIAL INPUT / OUTPUT
- AC Inlet
Others
Arpeggiator: 128
Arpeggio Sets: 128
RPS Sets: 32
Rhythm Pattern Sets: 32
Chord Memory: 128
Chord Memory Sets: 128
Display
Graphic Type, 8.5 in., Wide VGA (800 x 480 dots), backlit LCD (Color)
Pads
16 pads, Velocity and Polyphonic Aftertouch sensitive
Expansion for sound generator:
- ARX expansion boards: 2 slots
Expansion for sampling memory:
- DIMM: 1 slot, supports PC133, CL=2/3, 3.3 V, 128MB, 256MB, 512MB
External Storage Device: USB Flash Memory
Power Supply: AC 117 V, AC 230 V, AC 240 V (50/60Hz), AC 220 V (60Hz)
Power Consumption: 30 W
Size and Weight
Dimensions (WxDxH): (1,278 mm, 50-3/8 in.) x (411 mm, 16 3/16 in.) x (142 mm, 5 5/8 in.)
Weight: 16.5 kg, 36 lbs. 7 oz.
Power Supply
: Included
Same Day Music is an authorized dealer of
Roland
products.