Same Day Music is an
authorized Roland dealer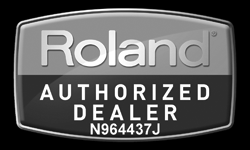 When inspiration strikes, take a seat at the latest model in Roland's renowned FP piano series; the entry-level FP-10. This affordable digital piano is always ready to play, with a reassuringly authentic feel from the 88-note PHA-4 Standard keyboard, joined by Roland's evocative SuperNATURAL piano tones through onboard speakers or headphones. With its portable, space-saving design, the FP-10 is the ideal instrument for home use, whether you're practicing techniques in the spare room or giving performances in the living room. Plus, with Bluetooth connectivity and powerful onboard features not offered by any other digital model at this price, the FP-10 is the ideal second piano for more experienced players.
*The Bluetooth feature may not be available, depending on the country where the product is purchased
Connect to the music with expressive PHA-4 keyboard
Playing piano is all about expression. The FP-10's PHA-4 Standard keyboard delivers the responsive feel of a fine acoustic piano, with every nuance whether you play hard or soft captured by Roland's touch-detection technology. With high-resolution sensing and escapement for fast key repetition, the PHA-4 keyboard faithfully translates into sound the subtlest differences in dynamics and tone. The attention to detail continues as you notice a heavier hammer-weight in the low registers and a lighter one in the highs. Touch the white keys and you'll be convinced by a revolutionary moisture-absorbing material that recreates the natural texture and tactile feel of real ivory - and for expressive pedaling techniques such as half-pedaling, simply connect the optional DP-10 pedal.
Authentic sound to engage beginners and inspire professionals
You'll find other instruments in the FP-10's price band - but none with piano tone in the same league. Roland's SuperNATURAL sound engine delivers authentic piano tone that feels expressive and alive, whether you're a beginner learning core techniques or an experienced player who demands detailed articulation and response. The dynamic piano sound comes flooding into your room via powerful onboard speakers - or through the headphones that let you enjoy playing around the clock.
Spark your musical creativity with onboard sounds, practice features and apps
Bursting with modern digital features, the FP-10 makes your playing sessions fun and productive. You can get creative in any musical genre with onboard sounds including organ, electric pianos and strings. You'll tighten your timing with the onboard metronome and learn faster with the Twin Piano Mode that lets learner and teacher sit side-by-side and play in the same key range. Plus, with Bluetooth and MIDI connectivity, you can connect with a world of Digital Audio Workstations (DAW) and apps ranging from Apple GarageBand to Roland's Piano Partner 2. Rhythm function is not available on Piano Partner 2.
The most compact 88-key digital piano in its class
You'd prefer a full-size 88-note piano - but don't have the room for a regular cabinet in your home. The Roland FP-10 is the answer.
Note: Stand available separately.
Same Day Music is an authorized dealer of
Roland
products.
Keyboard:
88 keys (PHA-4 Standard Keyboard: with Escapement and Ivory Feel)
Touch Sensitivity/Key Touch:
5 types, fixed touch
Keyboard Mode:
- Whole
- Dual
- Twin Piano
Pedals:
- Damper (capable of half pedal when optional pedal connected)
- Accessory pedal DP-2 (Pedal switch)
- Optional pedal DP-10 (capable of half pedal)
Piano Sound:
SuperNATURAL Piano Sound
Max. Polyphony:
96 voices
Tones:
- Piano: 4 Tones
- E.Piano: 2 Tones
- Other: 9 Tones
Stretched Tuning (only for piano tones):
Always On
Master Tuning:
415.3 Hz--466.2 Hz (adjustable in increments of 0.1 Hz)
Transpose:
-6--+5 (in semitones)
Effects:
- Ambience (0--10)
- Brilliance (-10--+10)
- Only for Piano Tones:
- String Resonance (Always On)
- Damper Resonance (Always On)
- Key Off Resonance (Always On)
Metronome/Tempo:
Quarter note = 10--500
Beat:
0/4, 2/2, 3/2, 2/4, 3/4, 4/4, 5/4, 6/4, 7/4, 3/8, 6/8, 8/8, 9/8, 12/8
Volume:
10 levels
Bluetooth/MIDI:
Bluetooth Ver 4.0
Internal Songs:
- Listening: 17 songs
- Tone Demo: 15 songs
Connectors:
- DC In jack
- USB COMPUTER port: USB Type B
- Update port: USB Type A
- Phones jacks (usable as output jack) x 1: Stereo miniature phone type
Rated Power Output:
6 W x 2
Speakers:
12 cm (4-3/4 inches) x 2
Language:
English
Control:
Volume (with the speaker volume and the headphones volume automatically select function)
Other Functions:
Auto Off
Power Supply:
AC adaptor
Power Consumption:
- 4 W (3--6 W)
- 4 W: Average power consumption while piano is played with volume at center position
- 3 W: Power consumption immediately after power-up; nothing being played
- 6 W: Rated power consumption
- Dimensions/With music rest detached:
- 1,284 (W) x 258 (D) x 140 (H) mm
- 50-9/16 (W) x 10-3/16 (D) x 5-9/16 (H) inches
- With music rest:
- 1,284 (W) x 298 (D) x 324 (H) mm
- 50-9/16 (W) x 11-3/4 (D) x 12-13/16 (H) inches
- With music rest and dedicated stand KSCFP10:
- 1,284 (W) x 298 (D) x 929 (H) mm
- 50-9/16 (W) x 11-3/4 (D) x 36-5/8 (H) inches
- Without music rest and dedicated stand KSCFP10, Stabilizers mounted:
- 1,292 (W) x 343 (D) x 745 (H) mm
- 50-7/8 (W) x 13-9/16 (D) x 29-3/8 (H) inches
- Weight, with music rest detached:
- 12.3 kg
- 27 lbs 2 oz
- With music rest and dedicated stand KSCFP10:
- 19.7 kg
- 43 lbs 7 oz
Accessories:
- Owner's Manual
- Music Rest
- AC Adaptor
- Power Cord (for connecting AC Adaptor)
- Pedal switch
Same Day Music is an authorized dealer of
Roland
products.
Shipping Weights and Dimensions

Shipping Weight: 38 lbs
Shipping Dimensions: 55 x 16 x 11 in