Same Day Music is an
authorized Roland dealer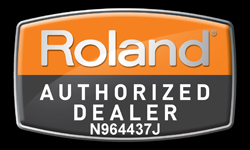 Roland's revolutionary V-Accordion(r) has profoundly changed the musical world since its debut in 2004. As the digital-modeling concept has grown in popularity around the world, so too has the need for more V-Accordion models. Embodying the digital advantages of the flagship, the new ultra-light FR-1 puts V-Accordion power in the hands of students, beginners and keyboard players!
Features
- Extremely lightweight and portable
- Instantly switch between classic accordions, tunings and orchestral instruments
- Built-in reverb, chorus, rotary, effects
- Ideal for young students and stage performers
Ideal for Students...
Thanks to its small size, the FR-1 is perfect for young beginners and music schools.
...And for Performers
Compact, but with no compromise in sound quality, the FR-1 is ideal for stage performers and keyboardists. With its long battery life (uses 8 x AA type 2000mAH Ni-MH batteries) you'll get over five hours of performance per pack -- plenty of time to roam the stage with the FR-1!
Make Your FR-1 Unique
The FR-1 comes with six variations of inlay sheets that enable owners to change the appearance of their FR-1 from time to time by changing these sheets. The player can also create his/her own custom designed inlay sheets using A4 PC printer, or by using any kind of commercially designed paper.
Play Anytime and Anywhere
With high-quality earphones included in the FR-1 package, this silent accordion is extremely convenient for practicing at night and without disturbing your family or neighbors.
A Speakerless, Light Model
Connect your FR-1 to Roland amplifiers (Mobile Cube, CM-30, Cube Street(r), SA-300) and be impressed by the power of your sound!
Advanced Musical Expression
With the FR-1, you can simulate up to seven different Accordions. And with the innovative four Organ presets (Harmonic Bar) and rotary effect, you can produce amazing organ sounds as well! You can even play your own beats, adding drums with the bass and chord buttons!
Same Day Music is an authorized dealer of
Roland
products.