Same Day Music is an
authorized Roland dealer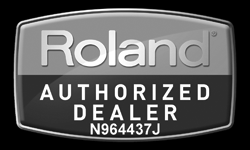 Roland JUNO-Di Synthesizer: Music On The Move
The Juno Di is the perfect companion for the musician on the go. It's lightweight, it can run on batteries, and it's easy to use, yet it performs and sounds like a heavyweight synth. Because it's packed with a huge variety of top-quality sounds (over 1,000 to choose from) you can confidently take it to any performance situation! And with it's "direct access" control panel for easy editing and a Song Player for larger-than-life performances, first-timers and pros alike will love this portable, great-sounding synth.
The Sounds
Let's face it, when it really comes down to it, the most important feature of any synthesizer is how good it sounds. So we'll start here: the JUNO-Di's top-of-the-line voice engine sounds good. Really good. It's extremely diverse sound bank gives you access to grand and electric pianos, lush strings, beautiful guitars, powerful brass, percussion, and tons of exotic instruments, modern synth sounds, and much more. There's so much there, you'll never find yourself in a musical situation this synth can't handle.
To take things a step further, the JUNO-Di allows you to customize the sounds with it's dedicated "Sound Modify" knobs on the front panel. Instantly cater each sound to your specifications, even while you're playing or use the PC software editor for more advanced editing.
Navigation Made Easy
We know what you're thinking, with so many fantastic voices onboard, how could I possibly begin to navigate the sea of sound banks? Fear not, sailor -- the JUNO-Di simplifies the process of finding sounds with dedicated category buttons.
For example, imagine you're on stage as the final notes of the upbeat power-pop number you just finished fade into rock-n'-roll history and you need to cue up a lush grand piano for the soon-to-begin ballad. The crowd stops roaring, your band-mates look at you anxiously, waiting for you to start. What do you do?
Press the "piano" button. Yup, that simple. The JUNO-Di lets you assign your most-used sounds to the Favorite buttons for instant access.
Editing is easy too. If you want to create layers or splits, dedicated buttons and the large LCD make the process fast and friendly. Onboard rhythm patterns can be quickly adjusted on the fly with a dedicated tempo control so you're prepared for every practice and performance.
Juno On The Go
The JUNO-Di is designed to go anywhere your music takes you. It's amazingly lightweight (only 5.2kg) so it's easy to lift and carry to your next gig (no matter how far from the van that stage may be). Is your next gig a street corner? No problem, the JUNO-Di has the abily to run on batteries (Ni-MH AA-size rechargeable batteries) so you can play for up to five hours without plugging in. When used in conjunction with a battery-powered amp such as Roland's famous CUBE Street or MOBILE CUBE, the JUNO-Di can be played and heard anywhere. There's even a "battery-life" indicator on the front panel ensures that you won't lose power unexpectedly.
Need To Sing?
The Juno Di lets you plug a microphone into its external input and process your voice through the built-in vocoder. Add ambience to your voice with a dedicated reverb is assigned to the input so you have the ultimate control over your sound. From silky smooth to sci-fi robotic, the JUNO-Di's got you covered.
Built-In Song Player
With its USB MEMORY port and Song Player function, the JUNO-Di enables direct playback and control of backing tracks from a USB key. You can play MP3, WAV, AIFF, and SMF files, and control them from the dedicated buttons on the front panel. Impress your audiences with full-band performances from a single keyboard! Additionally, the Center Cancel feature lets you sing along karaoke-style with audio files in the Song Player for a complete entertainment experience. You can also connect MP3 players directly to the JUNO-Di through its external input.
Features Of The JUNO-Di
- Professional synthesizer with over 1,000 instruments onboard
- Friendly, intuitive user interface
- Battery operation for mobile use (supports Ni-MH AA-size rechargeable batteries)
- MP3, WAV, AIFF, and SMF playback capability via optional USB memory -- perfect for backing tracks when performing live
- Microphone input with dedicated reverb and vocoder effects for sing-along
- PC/Mac Editor software included
Same Day Music is an authorized dealer of
Roland
products.
Keyboard:
61 keys (with velocity)
Sound Generator Section:
Maximum Polyphony: 128 voices
Parts: 16 parts
Wave Memory: 64 M bytes (16-bit linear equivalent)
Preset Memory:
- Patches: 1082 + 256 (GM2)
- Rhythm Sets: 20 + 9 (GM2)
- Performances: 64
User Memory
- Patches: 128
- Rhythm Sets: 8
- Performances: 64
- Favorites: 100
Effects
- Multi-Effects: 3 systems, 79 types
- Chorus: 3 types
- Reverb: 5 types
- Mic Input Reverb: 8 types
SMF/Audio File Player Section:
File Format:
- Standard MIDI File: format-0/1
- Audio File: WAV, AIFF, MP3
Others:
Rhythm Pattern Preset: 24 groups x 6
Arpeggiator Preset: 128
Chord Memory Preset: 17
Controllers:
- D Beam Controller
- Pitch Bend/Modulation Lever
- Sound Modify Knob x 5
Display: 18 characters 1 line + 20 characters 2 lines custom LCD (with backlit)
External Storage Device: USB Memory (supports USB 2.0 Hi-Speed Flash Memory)
Connectors:
- Output Jacks (L/MONO, R): 1/4 inch phone type
- Headphone Jack: Stereo 1/4 inch phone type
- Mic Input Jack: 1/4 inch phone type
- EXT INPUT Jack: Stereo miniature phone type
- Hold Pedal Jack
- MIDI Connectors (IN, OUT)
- USB COMPUTER Connector (supports USB MIDI)
Power Supply: DC 9 V: AC Adaptor or Ni-MH AA SIZE Rechargeable Battery (optional) x 8
Current Draw: 600 mA
Battery life for continuous use:
Rechargeable nickel metal hydride batteries: approximately 5 hours
- differs depending on the conditions of use
- approximately 4 hours if USB memory is connected
- Carbon-zinc or alkaline batteries cannot be used.
Accessories:
- Owner's Manual
- CD-ROM (Sound Editor, Librarian, Playlist Editor, USB Driver)
- USB Memory Protector
- AC Adaptor (PSB-1U)
- Power Cord
JUNO-Di Editor System Requirements:Windows:
Operating System:
- Microsoft (R) Windows (R) XP Home Edition/Professional
- Microsoft (R) Windows Vista (R)
- This does not work with the 64-bit Edition of Windows (R).
- This does not work with the Windows (R) XP Media Center Edition.
CPU: Intel (R), Core (TM), Pentium (R) processor 1.5 GHz or higher
RAM: 512 MB or more
Hard Disk: 200 MB or more of free space
Display/Colors: 1024 x 768 dots or higher/24 bit Full Color or more
CD-ROM Drive
USB port
Mac:
Operating System: Mac OS X v10.4.3 or later
CPU: Intel (R), Core (TM)/Xeon (TM), PowerPC G5
RAM: 512 MB or more * For Mac OS X v10.5 or later, 1GB or more.
Hard Disk: 200 MB or more of free space
Display/Colors: 1024 x 768 dots or higher/16.7 million colors or more
UCD-ROM Drive
SB port
Size and Weight:
Width: 1,008 mm (39-11/16 inches)
Depth: 300 mm (11-13/16 inches)
Height: 104 mm (4-1/8 inches)
Weight: 5.2 kg (11 lbs. 8 oz.)
Same Day Music is an authorized dealer of
Roland
products.