Same Day Music is an
authorized Roland dealer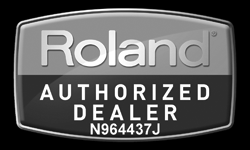 Roland responded to the growing popularity of acoustic drum triggering by re-thinking and re-designing their triggers. The 10-series triggers are physically smaller than before so you don't have to worry about drumstick-on-trigger contact damaging your gear or cramping your playing style. These triggers feature an even better response time than before with Roland's trigger-sensing technology.
Features:
- Sensor system and lighter material case to improve the trigger response
- Can be used with mesh heads as well as regular acoustic drumheads
- Works directly with Roland V-Drums TD series, TMC-6, SPD series, and HPD-series
- Approximately 10% smaller than previous models
Improved Trigger Sensing
Mission number one with this series was to improve trigger sensing, and that's precisely what Roland accomplished with the RT-10K/S/T. The sensor system is designed to eliminate false retriggering by offering an adjustable sensor structure (U.S. Patent No. 6,794,569). The reduced size and lighter weight of the triggers are helpful in improving sensitivity.
Same Day Music is an authorized dealer of
Roland
products.