Same Day Music is an
authorized Roland dealer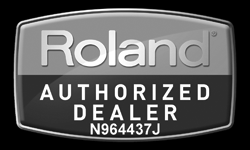 The SP-555 from Roland breaks ground with innovative features such as loop capture, super filter, D-Beam and V-Link technology. It's fast, powerful, and endlessly fun. It's the ultimate toolkit for DJs, producers, sample-based musicians, or performers who want to take their act to the next level.
Sample On Stage
The SP-555 is an easy-to-use and ultra-powerful sampler that allows you to capture sounds instantly onstage with either line or mic Inputs, or through USB audio streaming. This is the ultimate tool for Djs and performers who need to grab sounds and drop 'em into the mix on the stage. The SP-555 also supports up to 2GB CompactFlash cards for over 12 hours of recording with no-load playback.
Powerful FX
With 37 types of powerful DSP effects to alter your sounds, you'll never run out of fresh new ideas. Included in the lineup are Voice Transformer, Delay, Isolator, and the unique Super Filter and DJFX Looper, The Effect Memory allows for instant recall of your favorite settings using the pads with no glitching while switching effects.
D-Beam and V-Link Technology
The SP-555 features the unique, show-stopping D-BEAM and V-LINK technologies. The invisible D Beam can be trigger with a wave of the hand to tweak the SP-555's filter, trigger samples, or to play synth solos. Connect V-LINK compatible video equipment and sync the music to the visuals.
Live Loop Capture
To further expand your live show, the SP-555 features a "live loop capture" function that allows you to grab a piece of incoming audio or a loop of your live performance and instantly play it back in perfect time with your other tracks. These loops can also be captured through the effects in real time and assigned to a pad for later use. You can even perform sound-on-sound layering with your loops.
Computer Capable
The SP-555 can be used by itself or with a PC as either an audio interface for the bundled Cakewalk SONAR LE software or any other DAW or DJ application on your computer! With the bundled Wave Converter software, WAV and AIFF files can be imported and assigned to a CF card for use in the SP-555 (CF reader needed).
Features Of The SP555
Ultra-easy sampling with innovative Loop Capture feature
Versatile sampling through Line input, phantom-powered Mic input,USB audio streaming, and WAV/AIFF import
Dozens of killer performance effects, including Super Filter and DJFX Looper
Audio interface capability with any DAW or DJ audio application (Cakewalk SONAR LE included)
Large Sample Memory via CompactFlash (up to 2GB)
Bundled Wave Converter software (Mac and PC) for importing and exporting WAV/AIFF files
Infrared D-BEAM controller and V-LINK compatibility for high-impact performance
Same Day Music is an authorized dealer of
Roland
products.
Accessories Included
CD-ROM x2 (SONAR LE, WAVE CONVERTER/USB DRIVER)
AC Adaptor
Owner's Manual
Quick Start Guide
Size and Weight
Width: 280 mm, 11-1/16 inches
Depth: 264 mm, 10-7/16 inches
Height: 74 mm, 2-15/16 inches
Weight: 1.8 kg, 4 lbs.
Power Supply:
DC 9V AC Adapter (Included)
Same Day Music is an authorized dealer of
Roland
products.