Same Day Music is an
authorized Roland dealer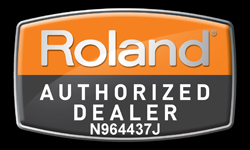 Roland's Finest EP & Clav Collection
If the current crop of R&B and hip-hop music is any indication, classic electric pianos and Clavs are hotter now than ever -- and let's not forget the many other genres that rely on these essential vintage instruments. Introducing the SRX-12: the finest sound library of coveted EPs and Clavs to bear the Roland logo. It painstakingly captures every note of the source electric pianos and every pickup setting of the source Clav. It can be installed in any SRX-compatible Roland instrument. The SRX-12 can be installed in any SRX-compatible Roland instrument (compatibility list below), but Fantom-X owners are in for an extra special treat with this collection, as you're about to read.
Features:
Roland's finest EP/Clav sounds ever!
Recorded in high-definition with the finest mics and converters
Every note sampled with multi-tone velocity switching
Bonus Piano-Mode functionality for Fantom-X6/X7/X8
Amazingly Authentic
Prepare yourself for the most meticulously sampled EPs and Clavs you've ever laid fingers on. Recorded at 197kHz with the finest microphones and converters, and with every note precisely sampled at multiple velocities, the SRX-12, simply, has no equal. The audio detail and programming expertise that went into this collection adds up to a stunningly authentic sound with incredible expression and playability.
Fantom-X Advantage
Owners of Roland's Fantom-X6/X7/X8 will enjoy an extra bonus when purchasing the SRX-12. With the SRX-12 installed in a Fantom-X, extra pages are added to the Fantom-X's Piano Mode that let you select and graphically edit the EPs and Clavs quickly and easily. While these special Piano Mode features are only available to Fantom-X6/7/8 users, the SRX-12 can be used with any SRX-compatible instrument.
SRX Compatibility
All SRX-series expansion boards, including the SRX-12, are compatible with the following:
Roland Fantom-S/S88*
Roland Fantom-X6/7/8/XR/Xa
Roland G-70
Roland JUNO-G
Roland MC-909
Roland RD-700/700SX
Rodgers MX-200
Roland VR-760 V-Combo
Roland XV-88/2020/3080/5050/5080
*Version 1.06 and higher
Same Day Music is an authorized dealer of
Roland
products.