Same Day Music is an
authorized Roland dealer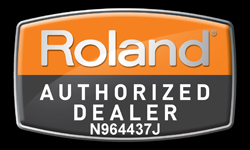 Enhanced with SuperNATURAL technology, the Roland TD11K V-Compact Electronic Drum Set brings is a natural and realistic playing kit designed for drummers of any skill level and budget. Roland went to work and made the TD11K electric drumset easy to use, making it perfect for a variety of applications including practice, teaching, recording, live performance, and more!
TD11 Drum Sound Module with SuperNATURAL
The SuperNATURAL-powered Roland TD11 drum sound module provides improved playabilty and performance with incredibly expressive and natural sounds. The TD11K also offers a variety of powerful features, including backing songs in variety of musical styles, Quick Record/Quick Play, a COACH function, and USB for MIDI/AUDIO and data storage.
Mesh-Head V-Pad for Snare
The PDX-8 mesh V-Pad for snare features Roland's amazing dual-triggering technology, resulting in accurate and even sensing between the head and rim. It offers an expanded 10-inch rim for more comfortable and quiet rim-shots. For toms, the Roland TD11K drum set features PD-8A durable 8.5-inch rubber pads which also offer super-accurate triggering and a time-tested design for years of reliable use.
Compact and Practical Hi-Hat Combination
The CY-5 cymbal pad for hi-hat features a 10-inch playing zone and natural swing movement. It also provides separate bow and edge triggering. With the FD-8 Hi-Hat Controller, drummers can get realistic hi-hat sounds with smooth transitions between open and closed positions with the Roland TD11K electronic drum set.
Natural-Feel Kick Pad
With mechanics and a cloth-designed bass drum head, the KD-9 on the TD11K drumset provides great feel, dynamic response, accurate triggering and solid playability even with using a double pedal. It's also easy and quick to set up. *Kick Pedal not included.
Custom Stand for V-Compact V-Drums
Designed for the V-Compact series, the MDS-4V is the most space-efficient drum stand from Roland. In addition to its stylish and compact footprint, the MDS-4V features a metal center-horizontal joint bar that gives the TD11K electric drum set improved stability and solidness during frequent set-ups and tear-downs. The lower weight-balance and black-tone provide stability and visual cleanliness.
Features:
- SuperNATURAL-enhanced sound engine with Behavior Modeling provides an expressive and natural drumming experience
- Diverse sound library covers a wide variety of musical genres for performance and practice
- Professionally recorded backing songs onboard, ideal for play-along practice and performance
- Practice features include Quick Record/Quick Play, plus a unique COACH function that helps players of all levels build drumming skills effectively
- Large LCD and icon-driven user interface for easy operation
- USB function provides direct connectivity to computer applications, as well as data backup and playback of WAV and MP3 audio songs
- Compact and solid MDS-4V Drum Stand enables fast setup and flexible positioning of drum components
- Equipped with a mesh-head V-Pad (PDX-8) for the snare
*Kick Pedal not included
Same Day Music is an authorized dealer of
Roland
products.
- Drum Sound Module: TD-11 x 1 (cable harness and module mount packaged with module)
- V-Pad (Snare): PDX-8 x 1
- Pad (Tom1, Tom2, Tom3): PD-8A x 3 * The PD-8A is a unit dedicated to the TD-11K. It does not support the use of the rim-shot technique
- Cymbal Pad: CY-8 x 2
- Hi-Hat Pad: CY-5 x 1
- Kick Pad: KD-9 x 1
- Hi-Hat Controller: FD-8 x 1
- Drum Stand: MDS-4V x 1
- Extra Trigger Input Jack: 1 (CRASH2)
- Accessories: Setup Guide
- Dimensions (WxDxH): 47-1/4 x 43-5/16 x 49-1/4 inches
- Weight: 47 lbs. 7 oz.
Same Day Music is an authorized dealer of
Roland
products.
Shipping Weights and Dimensions

Shipping Weight: 64 lbs