Same Day Music is an
authorized Roland dealer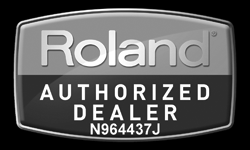 The Roland TD15K V-Tour electronic drum set is an incredible value, offering the groundbreaking SuperNATURAL sounds and Behavior Modeling of the flagship TD30 drum set. Drummers can now experience SuperNATURAL performance, authenticity, and expression in a more affordable and compact format. The Roland TD15K electric drumset is built for performance on the stage, in the studio, and in your practice space.
TD15 Drum Sound Module with SuperNATURAL
Powered by SuperNATURAL technology, the Roland TD15 drum sound module gives the TD15K drum set outstanding playability, superb expressiveness, and pro-level operation. Powerful and affordable, this V-Drums sound engine is ideal for both the live stage and recording studio.
Mesh-Head V-Pads for Snare and Toms
The 8-inch PDX-8 and 6.5-inch PDX-6 mesh V-Pads on the TD15K electronic drum set feature Roland's amazing dual-triggering technology, resulting in accurate and even sensing between the head and rim. The PDX-8 for snare offers an expanded 10-inch rim for more comfortable and quiet rim-shots.
Acclaimed V-Cymbals for Crash and Ride
With optimized weight-balance and sensitivity, the Roland CY-12C for crash provides a natural swinging motion and accurate triggering for consistent crash performance, including choke control. As a ride cymbal, the CY-13R offers an enlarged bow area and a realistic playing feel, with accurate three-way triggering for edge, bow and bell.
Compact and Practical Hi-Hat Combination
The CY-5 cymbal pad for hi-hat features a 10-inch playing zone and natural swing movement. It also provides separate bow and edge triggering. With the FD-8 Hi-Hat Controller, drummers can get realistic hi-hat sounds with smooth transitions between open and closed positions with the TD15K electric drum kit.
Natural-Feel Kick Pad
With updated mechanics and a cloth-designed bass drum head, the Roland KD-9 provides great feel, dynamic response, accurate triggering and solid playability even with using a double pedal. It's also easy and quick to set up. *Kick Pedal not included.
Custom Stand for V-Tour V-Drums
Designed for the TD15K V-Tour drum set, the Roland MDS-9V is a stable four-leg drum stand with adjustable ball clamps for cymbal arms/snare mount and tilt mechanism for hi-hat mount arm. You can adjust the position of the cymbals and toms freely for the ideal ergonomic setup.
Features:
- Sensing technology with Behavior Modeling provides an expressive and natural drumming experience
- Diverse sound library covers a wide variety of musical genres
- Professionally recorded backing songs onboard, ideal for play-along practice and performance
- QUICK EDIT buttons provide instant editing control over tuning, muffling, and snare strainer
- Practice features include Quick Record/Quick Play, plus a unique COACH function that helps players of all levels build drumming skills effectively
- Large LCD and icon-driven user interface for easy operation
- Assignable CLICK out, illuminated value dial ring, and function buttons enhance professional live use
- USB function provides direct connectivity to computer applications, as well as data backup and playback of WAV and MP3 audio songs
- Lightweight mesh V-Pads for snare (PDX-8) and toms (PDX-6)
- Compact and practical hi-hat combination (CY-5/FD-8)
* Kick Pedal not included
Same Day Music is an authorized dealer of
Roland
products.
- Drum Sound Module: TD-15 x 1 (cable harness and module mount packaged with module)
- V-Pad (Snare, Tom1): PDX-8 x 2
- V-Pad (Tom2, Tom3): PDX-6 x 2
- V-Cymbal Crash: CY-12C x 1
- V-Cymbal Ride: CY-13R x 1
- Cymbal Pad: CY-5 x 1
- Kick Pad: KD-9 x 1
- Hi-Hat Controller: FD-8 x 1
- Drum Stand: MDS-9V x 1
- Extra Trigger Input Jack: 2 (CRASH2, AUX)
- Accessories: Setup Guide
- Dimensions (WxDxH): 51-3/16 x 47-1/4 x 49-1/4 inches
- Weight: 51 lbs. 13 oz.
Same Day Music is an authorized dealer of
Roland
products.