Same Day Music is an
authorized Roland dealer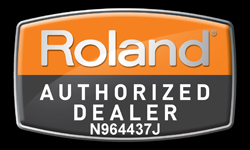 Aggressively processed vocals are common in electronic music today, but producing these effects easily and reproducing them live continues to be a challenge. The Roland VT-3 lets you smoothly alter Pitch and Formant and can introduce heavily processed vocal sounds into your studio tracks and live performances with zero hassle.
And it's not just for robot voices. The VT-3 has the power to transform your voice into synthesizers, synth basses, hard-tuned and lo-fi vocals and more. The VT-3 can also be subtle and musical, with built-in reverb, smooth Wet/Dry fader control and instant bypass.
Built for creative speed and live performance, the VT-3 is meant to be played. It has high quality specs and sturdy, brightly-lit controls that are dead simple to use. The controls and functions are smooth and immediate with no popping or clicking or latency issues to worry about, even when switching presets or changing voice characters. Weighing less than two pounds and small enough to slip into a bag, you can take the VT-3 anywhere.
The VT-3 is designed to work seamlessly and look great with other products in the AIRA series.
Choose from 9 different voice characters:
- Pop and electro sounds with two distinct "AUTO-PITCH" effects
- VP-330-style VOCODER sounds without need for a keyboard
- Glitchy effects that sound like something broke (in a good way) with SCATTER
- Loads of lo-fi character with MEGAPHONE and RADIO settings
- Synthetic sounding voices with the ROBOT button.
- Synths you can sing with SYNTH, LEAD, and BASS
Features:
- Change Pitch and Formant in real-time with smooth dedicated sliders
- Large dedicated REVERB and MIX BALANCE sliders
- Save your three favorite settings for instant recall
- Footswitch control for live performance
- Pure green LEDs and brightly lit controls for great visibility
- Lightweight and durable construction for easy portability
- XLR standard combo jack with phantom power and 1/8" inch powered mic jack
- Stereo outputs can be configured as separate mono Wet/Dry channels
- USB audio interface with loopback recording to overdub vocals on existing tracks
- Great for podcasts and live web streaming
- USB bus powered
Same Day Music is an authorized dealer of
Roland
products.
- Nominal Input Level: MIC IN: -40 to -12 dBu (variable)
- Input Impedance:
- MIC IN (Rear): 4.4 k ohms
- MIC IN (Front): 2.2 k ohms
- Nominal Output Level: OUT: -10 dBu
- Output Impedance:
- OUT: 1 k ohms
- PHONES: 24 ohms
- Memory Scene: Memory: 3
- -Voice Changer:
- Pitch
- Formant
- Robot
- Character
- -Character Type:
- DIRECT
- AUTO PITCH1
- AUTO PITCH2
- VOCODER
- SYNTH
- LEAD
- BASS
- MEGAPHONE
- RADIO
- SCATTER
- Effect Type: REVERB
- Controllers:
- Pitch slider
- Formant slider
- Mix Balance slider
- Reverb slider
- Character knob
- Robot button
- Bypass button
- Phantom switch
- Select switch
- Indicator: Peak indicator
- - Connectors:
- MIC IN jack (Rear): XLR type (balanced, phantom power: +48 V, 10 mA Max)
- MIC IN jack (Rear): 1/4-inch TRS phone type (balanced)
- MIC IN jack (Front): Stereo miniature phone type (plug-in power)
- PHONES jack: Stereo miniature phone type
- OUT jacks: 1/4-inch phone type
- USB port: USB type B (Audio)
- PEDAL jack: 1/4-inch phone type
- DC IN jack
- USB: Audio
- Power Supply: AC adaptor or obtained via USB port (USB bus power)
- Current Draw: 380 mA
- Dimensions: (W x D x H) 210 x 175 x 57 mm (8-5/16 x 6-15/16 x 2-1/4 inches)
- Weight: 690 g (1 lb 9 oz)
- Accessories: Owner's manual, Leaflet "USING THE UNIT SAFELY", AC adaptor
Same Day Music is an authorized dealer of
Roland
products.
Shipping Weights and Dimensions

Shipping Weight: 4 lbs
Shipping Dimensions: 15 x 10 x 4 in