Same Day Music is an
authorized Samson dealer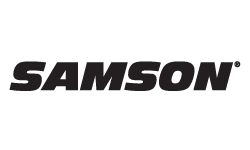 A sound engineer should have the same relationship with his console that a musician has with his instrument: they should both be intuitive and comfortable in any situation. This was a major design goal during the two-year development of the Samson L3200 mixing console.
So they put 100mm faders on all their channels and groups. Each fader feels tight with a smooth action for a studio-quality console feel. That means you're at home in every situation with greater control over every nuance.
They've also designed large, backlit mute buttons that make console navigation in dimly lit club and theater settings easy and convenient. Additionally, there's two large 12-segment LED meters for the main mix, groups and PFL/AFL. Finally, Samson gave these mixers the versatility to create a variety of effects settings so you can deliver a different set of effects to your performers whenever the situation demands it. And for additional effects needs, they made sure there's plenty of sends so you can use your racks of effects along side the onboard DSP.
Flexibility for Today's Live Sound Needs
Perfect for installation purposes, especially in clubs, schools, theaters and churches, the L3200 is a 32-channel / 4-bus professional mixing console. Samson understands the need for more aux sends, so they've provided 6 flexible aux sends that allow for up to 8 monitor and effects mixes.
A convenient talkback system makes communicating on stage no problem. Plus, both consoles offer XLR and 1/4-inch stereo main outputs and the XLR mono output has an adjustable low-pass filter specific for subwoofer output.
The L3200 offers 24 mic/line channels with preamps and 4-band EQ in addition to 4 stereo channels, of which 2 have mic preamps, providing great control and versatility.
It's All About USB
Samson recognized the presence of computers in contemporary audio, so they've included USB functionality for computer recording and playback. And while there are more than a few mixing consoles with USB, with the L3200, you can build a complete independent stereo mix specifically for your USB digital I/O.
That means that unlike other mixers in this segment, your USB mix is not locked into your house mix. The combination of USB functionality and the amount of aux sends also allows for pre-recorded background tracks to be sent to the house and monitors as a stereo mix. Thanks to the USB connectivity, these background tracks can be pre-recorded on a DAW and played back directly from your computer.
Same Day Music is an authorized dealer of
Samson
products.
- 32 Input Channels (24 mono)
- XLR Mic: 24 mono channels + 4 stereo channels
- Frequency Response: 20Hz - 20kHz
- Weight: 39.70 lbs (18.1kg)
- Dimensions (HxWxD): 6.38 x 39.92 x 20.98 in. (162 x 1014 x 533 mm)
- 4 Stereo Line Inputs
- 24 Inserts
- Large Illuminated Mute Switches
- Stereo inserts
- 4 Groups with inserts
- 3-Band EQ with sweepable mids
- 6 Aux sends
- Dual DSP with 100 digital multi-effects
- 2 Stereo aux return
- USB I/O (from aux sends or main mix)
- Input gain trim on each channel
- 24 dB Low cut filter at 75Hz
- 100mm faders
- PFL switches
- AFL switches
- Phantom power switch (+ 48V)
- Mono Out & LPF with sub-woofer containing variable frequency control
- 2 x 12-segment LED level meter for Main L/R, PFL/AFL. Group 1-4
- Talkback mic input
Same Day Music is an authorized dealer of
Samson
products.