Same Day Music is an
authorized Samson dealer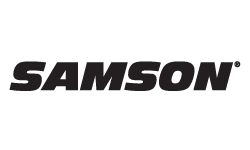 Bringing the world's first professional USB studio condenser microphone to a higher level, Samson introduces the C01U Pro. This high quality USB condenser mic is the ideal piece of gear for any home studio. Conceived from a vision to transform the world of music recording, the C01U Pro is perfect for applications such as podcasting, VoIP, speech to text platforms and, of course, recording vocal and instrumental music performances.
The Samson C01U Pro builds on the legacy of its trailblazing predecessor with the addition of a headphone output for real time zero-latency monitoring of your recordings. It also boasts a significantly improved signal-to-noise ratio and adds a Peak LED indicator to match the ever-increasing capabilities of computer-based home studio recording setups. The C01U Pro features a large, 19mm shock-mounted diaphragm efficient in capturing both low and high end frequencies with equal articulation. Capturing audio at 16-bit, 44.1/48 kHz resolution, the C01U Pro offers the accuracy you need to be sure that what you hear is what you get.
As always, Samson makes recording hassle free with the C01U Pro's plug-and-play operation for instant set up and simple use with most digital audio workstations. C01U Pro also includes a mini tripod stand and swivel mount, allowing for optimal desktop mic placement. C01U Pro is even compatible with iPads and iPhones (4S and later) using Apple's Lightning USB Camera Adapter or Camera Connection Kit (30-pin) for those seeking to achieve high quality sound in mobile situations.
Samson's CO1U Pro stands out as the perfect update to our legendary C01U. With specs inspired by the needs of musicians, we invite all users to experience superior sound for recording or communicating on your computer.
Features:
- Large, 19mm diaphragm studio condenser microphone
- Plug-and-play operation, no drivers required
- Compatible with most computer-based digital audio workstations
- Perfect for recording music, Skype, FaceTime and VoIP applications
- Headphone output for zero-latency monitoring
- Peak LED indicator
- Supercardioid pickup pattern
- Shock-mounted mic element
- 16-bit, 44.1/48 kHz resolution
- Smooth, flat frequency response of 20 Hz - 18 kHz
- iPad and USB bus powered. (To connect directly to an iPad, you will need to use the Apple iPad Camera Connection Kit or Lightning to USB Camera Adapter, not included.)
- Solid, die-cast construction with heavy gauge mesh grill
- Includes mini tripod stand with standard 5/8" thread and swivel mount for optimal desktop placement
Same Day Music is an authorized dealer of
Samson
products.
Frequency Response: 20 - 18,000 Hz
Polar pattern: Supercardioid
Element type: Back condenser
Diaphragm thickness: 3 microns
Digital sensitivity:
- Minimum Gain: -40 dBFS/Pa
- Maximum Gain: -4 dBFS/Pa
SPL: 130 dB
Weight: 1.06 lbs. (.48 kg)
Shipping Weight: 2.5 lbs.(1.15 Kg)
Height: 7" (180 mm)
Width: 2.125" (54 mm)
Depth: 2.125" (54 mm)
Same Day Music is an authorized dealer of
Samson
products.
Shipping Weights and Dimensions

Base Item

Shipping Weight: 2 lbs
Shipping Dimensions: 9 x 6 x 3 in

with Podcasting Pack

Shipping Weight: 5 lbs
Shipping Dimensions: 11 x 10 x 5 in