Same Day Music is an
authorized Samson dealer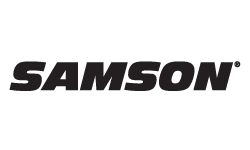 The Samson SX1200 stereo power amplifier has been designed to provide robust, clean output with low distortion and wide dynamic range, along with the dependability demanded by professional audio engineers and installers.
The convenient two rackspace design is compact, and yet there's plenty of power available, with 2 x 300 watts at 8 and 2 x 450 watts at 4 over the full frequency spectrum, from 10 Hz to 55 kHz.
For mono applications, a bridged mode links both channels of the amplifiers, thus providing even more power, with a power rating of 900 watts for the Samson SX1200 into an 8 ohm load.
Input connections are made via combination connectors allowing for both balanced XLR and balanced 1/4" TRS connections. For the outputs, the Samson SX1200 amplifier provides standard 5-way binding posts, as well as Speakon connectors. Front panel controls and displays include a power switch with LED indicator, as well as independent left and right channel input level controls. To help you set the correctoperating levels, the SX amplifiers include front panel Signal, Peak and Protection LED indicators.
Like all serious power amplifiers, the Samson SX1200's internal electronics are based around a serious powercore, with oversized toroidal transformer and large extruded heatsinks. To keep the SX amplifiers running cool, their designs employ twin internal wind tunnels with forced-air cooling via two temperature-sensitive,variable speed fans, which greatly reduce the chance of thermal and overheating problems. Multi-stage protection for power-up, over-heating, over-current, short circuit, low output impedance and DC voltage, assures high reliability under the most demanding situations.
The Samson SX1200 is road tough with its all steel chassis, 19-inch rackmount design and convenient carry handles, so it's ready for a life of travel, or to make it's home in a fixed installation.
Features:
- Professional Class AB Power Amplifier
- 300 watts per side @ 8 ohms
- 450 watts per side @ 4 ohms
- 900 watts @ 8 ohms in bridged mono
- Dual Variable-speed Fan Cooling System
- Signal, Peak, and Protection Circuit Indicators
- 5-way Binding Post and Speakon Speaker Outputs
- XLR and TRS Input Connections
- Dual Rack Space Design
Same Day Music is an authorized dealer of
Samson
products.
WARNING:
Bridge mode is to be used only when the SX Series is connected to an 8 or 16 ohm speaker load. Use of Bridge mode with speaker loads of less than 8 ohms can result in severe damage to the unit due to excessive heat and current limiting and will void your warranty!
All Samson SX Series amps are designed to operate on 15 amp circuits and do not require special plugs or wiring. It is advisable to put each amp on a separate circuit to avoid popping a standard 15-20 amp breaker.
Output at 8 ohms stereo:
300 watts per channel
Same Day Music is an authorized dealer of
Samson
products.