Same Day Music is an
authorized Samson dealer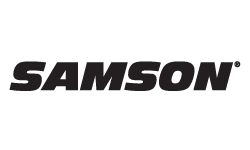 The SX3200 is the newest and most powerful addition in the SX series of amplifiers. Boasting a staggering 3200 Watts of Class H power in a two rack space design. The SX3200 is a perfect solution for driving professional audio systems of any size.
The SX Amps are built around a new power core design with over-sized toroidal transformers and extra-large heat sinks. The amps maintain cool operating temperatures thanks to an innovative forced-air cooling system with temperature sensitive variable-speed fans. Trouble free operation is provided by multi-stage protection for power-up, over-heating, over-current, short circuit, low output impedance and DC voltage, assuring total reliability under the most demanding conditions. The entire SX line is 2 Ohms stable and features locking XLR/TRS inputs, Speakon(TM) and 5-way binding post speaker outputs.
Features
- Professional High Power, Class H, Rail-switching Amplifier
- 750 Watts per side @ 8 Ohms
- 1100 Watts per side @ 4 Ohms
- Dual Variable-speed Fan Cooling
- Signal, Peak, and Protection Circuit Indicators
- 5-way Binding Post and Speakon Speaker Outputs
- XLR and TRS Input Connections
- Dual Rack Space Design
Same Day Music is an authorized dealer of
Samson
products.
WARNING:
Bridge mode is to be used only when the SX Series is connected to an 8 or 16 ohm speaker load. Use of Bridge mode with speaker loads of less than 8 ohms can result in severe damage to the unit due to excessive heat and current limiting and will void your warranty!
All Samson SX Series amps are designed to operate on 15 amp circuits and do not require special plugs or wiring. It is advisable to put each amp on a separate circuit to avoid popping a standard 15-20 amp breaker.
Output at 8 ohms stereo:
750 watts per channel
Same Day Music is an authorized dealer of
Samson
products.