Same Day Music is an
authorized Samson dealer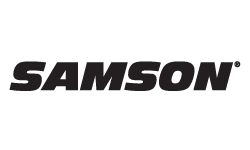 Samson XP308i Portable PA System; Have the power to perform wherever you are.
With powerful, full-range sound in an all-inclusive portable package, the XP308i is an ideal single system solution for a variety of live sound applications. A compact PA system with dual 2-way speakers, on-board mixer and 300 watt power amplifier, the XP308i is the ultimate in portability thanks to a clever, lightweight design that allows you to connect all the pieces together into a single, easy to transport case. The internal 2x150 watt Class D power amplifier produces an incredibly clean and powerful stereo sound. It's also remarkably lightweight and efficient with very low current draw.
Features
- Compact PA system with dual 2-way speakers, mixer and 300 watt amplifier
- Practical design allows all pieces to connect into a single, portable case
- Internal 2x150 watt lightweight Class D amplifier
- 8 inch woofers in 2-way vented enclosures
- 1 inch titanium tweeter in custom horn with 60x90 degree coverage
- 8 channel removable mixer with four mic/line inputs, two stereo inputs
- Bass and treble control on mixer's channel inputs
- Monitor out on two 1/8 inch jacks allows connection to external powered monitors
- Internal effects processor to add digital reverb to any microphone channel
- Built-in iPod dock
- Music/Speech switch to set overall system equalization
- Six-segment level meter with limit indicator
- RCA record outputs to connect to external recorder
The system's speakers are 2-way vented enclosures with heavy-duty 8-inch woofers for deep bass. These are complemented by a 1-inch titanium tweeter set in a custom horn with a 60 x 90 degree coverage pattern. The result is consummate dispersion and loud, lucid audio.
The XP308i's 8-channel mixer can be removed from the speaker for tabletop use and you can use the kickstand to set the mixer at an ergonomically correct angle. The mixer features four mic/line inputs, allowing you to connect microphones or line signals. It also provides two stereo inputs for connecting line signals from keyboards, drum machines or MP3/CD players. You can even engage the phantom power switch if you are using condenser microphones.
Bass and treble control are also provided for each of the channel inputs. For enhanced convenience and versatility, the XP308i features a built-in iPod dock which easily connects to most iPod models for seamless music playback. You can also use the iPod to incorporate background tracks or repeat a commercial message at a fair or tradeshow.
With all these comprehensive features set in one portable, great sounding system, the XP308i stands out as one of the most versatile and inclusive portable PA systems on the market.
Note: This product uses a 30-pin Apple dock connector.
Same Day Music is an authorized dealer of
Samson
products.