Same Day Music is an
authorized Steinberger dealer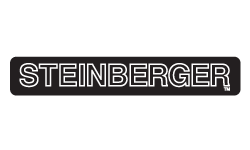 Steinberger has long been famous for designing the most comfortable and balanced basses the world has ever seen and the Synapse bass is no different. Designed by Ned Steinberger, the Synapse bass guitar is a HYBRID instrument combining the strength, rigidity and clarity of graphite with the warmth and beauty of wood. At the heart of every Synapse is the Cybrosonic neck featuring the patented graphite U-channel with adjustable truss rod uniquely crafted into a 3-piece, hard maple neck. Steinberger then adds a smooth and durable phenolic fingerboard and a glued-in body design to create an instrument with distinctive tonal clarity, sustain, "pop" and response as well as ultimate stability!
One low-impedance, active EMG USA bass humbucker mounted at the "sweetspot" combined with an internal low-impedance preamp and a stereo piezo bridge extends the range on both ends for earth-moving lows and phenomenal transients from slap-style playing. Internal trim pots allow you to adjust the balance of the piezo output between the high and low strings if needed. It is equipped with a Rosewood saddle for warm, pure tone.
Other features include a Combo headpiece that accommodates DoubleBall and single-ball strings, the patented 40:1 ratio, direct-drive double ball bridge for super-fast string changes and rock-solid tuning stability. With it's headless design and innovative "Strap Hook", the Synapse bass balances perfectly and positions the bass in the ideal playing position when standing. The fold-down leg rest accommodates performance while seated as well.
Provided with a premium, padded gig bag, the Synapse's headless design is compact and capable of fitting into tight places including most overhead airplane bins. Put it all together and you've got a bass of un-equalled performance, comfort and flexibility. Steinberger -- State of the Instrument.
Same Day Music is an authorized dealer of
Steinberger
products.
- Neck Materials: Cybrosonic Patented Graphite U-Channel w/adjustable truss rod, 3 Piece Hard Maple.
- Neck Joint: Set Neck
- Fingerboard: Phenolic
- Fingerboard Radius: 14"
- Frets: 24, medium jumbo
- Scale Length: 34"
- Body Wings: Hard Maple
- Body Top: Flamed Maple
- Pickups: EMG 40P
- External Controls: Master Volume, Mag/Piezo Pickup Blend, Active Hi Cut/boost, Active Lo Cut/Boost
- Internal Controls: Two trim pots adjusting Magnetic and Piezo output levels
- Battery: 18V
- Bridge: Patented DoubleBall Bridge with 40:1 ratio direct-pull tuners
- Saddle Material: Ebony
- Weight: 7.6lb
- Length: 39.5"
- Zero Nut Width: 1.58"
- 12-Fret Width: 2.056"
- Bridge Spacing: 0.73"
- Includes: Deluxe Gig Bag
Same Day Music is an authorized dealer of
Steinberger
products.