Same Day Music is an
authorized Steinberger dealer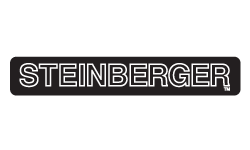 Play it open and it's a baritone, roll the built-in capo up a couple of frets and it's a normal 25-1/2" guitar. Continue rolling the capo up the neck and... well... it's just about anything! Designed by Ned Steinberger, the Synapse guitar is a HYBRID instrument combining the strength, rigidity and clarity of graphite with the warmth and beauty of wood. At the heart of every Synapse is our Cybrosonic(TM) neck featuring our patented graphite U-channel with adjustable truss rod uniquely crafted into a 3-piece, hard maple neck. We then add a smooth and durable phenolic fingerboard and a neck-thru body design to create an instrument with distinctive tonal clarity, sustain, "pop" and response as well as ultimate stability!
Add to that, a proprietary piezo-equipped bridge with 1-piece aluminum saddle combined with low-impedance EMG USA humbuckers and you've got an instrument with infinite tonal possibilities and increased frequency response. Isolate the piezo bridge to get simmering acoustic-like tones. Turn up the EMG's and you've got classic, high-output humbuckers - from clean to super crunchy. Combine the two pickup systems and let your imagination run wild.
Other features include a gorgeous flame maple top, zero-fret for improved intonation, the new Steinberger Combo headpiece to allow for the use of DoubleBall(TM) and single ball strings and our patented Direct-Drive double-ball bridge with 40:1 tuners for tuning ease, accuracy and stability that only a Steinberger can provide. With Steinberger, you can change strings in seconds, tune up once and not have to tune again until you change strings again.
Provided with a premium, padded gigbag, the Synapse also makes a great travel instrument measuring only 35" in length and capable of fitting into the tightest of places including overhead airplane bins. The result is a guitar of unequalled performance, comfort and flexibility. Steinberger - State of the Instrument.
Same Day Music is an authorized dealer of
Steinberger
products.
- Neck Materials: Cybrosonic Patented Graphite U-Channel with adjustable trussrod with 3-piece Hard Maple
- Neck Joint: Thru Neck
- Fingerboard: Phenolic
- Fingerboard Radius: 14 inch
- Frets: 24 Medium-Jumbo
- Scale Length: 28.5/8" adjustable
- Body Wings: Hard Maple
- Body Top: Hard Maple
- Pickups: EMG-81, EMG-85
- External Controls: Master Volume, Mag/Piezo Pickup Blend, Active Hi Cut/Boost, Active Lo Cut/Boost 3-way Pickup Selector
- Internal Controls: Two trim pots adjusting Magnetic and Piezo output levels
- Bridge: Patented DoubleBall Bridge with 40:1 ratio direct-pull tuners
- Saddle Material: Aluminum
- Weight: 6.4 lbs.
- Length: 35 inches
- Zero Nut Width: 1.65 inches
- 12-Fret Width: 2.05 inches
- Bridge Spacing: 0.42 inches
Same Day Music is an authorized dealer of
Steinberger
products.