Same Day Music is an
authorized Schecter dealer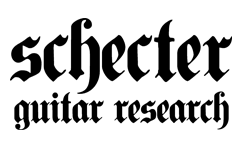 Somewhere between a baritone guitar and a bass, Schecter's Hellcat VI provides ultra-low guitar tones with its long 30 inch scale. Tuned a whole octave lower than your standard electric guitar, the Hellcat VI is perfect for anything from down and dirty guitar parts, to playing upper octave bass lines. Featuring three Seymour Duncan SJAG-1 that combined with 3-on/off switches provide incredible versatility for stage or studio. Get one today!
Grover Rotomatic Tuners
Based on the original Rotomatic, but with an improved higher ratio gearing. The 18:1 ratio provides for finer tuning and greater stability. The finer gears provide smoother tuning and a higher degree of backlash elimination
Rosewood/Maple Fingerboard
Rosewood is naturally oily, and works well for any surface that sees frequent human contact. The sound is richer in fundamental than maple because the stray overtones are absorbed into the oily pores. Very bright and dense, maple is highly reflective. When used on a fretboard, maple encourages tremendous amounts of higher overtones and its tight, almost filtered away bass favors harmonics and variations in pick attack.
Seymour Duncan SJAG-1 Pickups
Every detail in sound, construction, and appearance is faithfully duplicated in this vintage pickup. Even the original hand grinding process is used on the magnetic pole pieces. The result is that classic '60s sound. Middle pickup is reverse wound, reverse polarity ("RW/RP") to create a hum canceling effect when used together with the bridge or neck pickup.
Maple Neck
Maple has a uniform grain, it's strong and stable, and it has less reaction from environmental changes than other hardwoods. Its tone is highly reflective, and focuses more energy onto the body wood. Maple transfers a bright tone to the body which complements the warm tones of a mahogany body.
Same Day Music is an authorized dealer of
Schecter
products.
- Construction: Bolt-On
- Available Bodies: - Alder
- Neck: Maple
- Fingerboard: Rosewood/Maple (BLK)
- Frets: 22 Medium
- Inlay: Dots
- Tuners: Grover
- Pickups: Seymour Duncan SJAG-1
- Electronics: Vol/Tone/ 3 On-Off switches
- Available Bridges: - TonePros System w/Custom Brass Saddles
- Scale: 30"
- Hardware: Chrome
- Available Colors: - 3-Tone Sunburst (3TSB), Gloss Black (BLK)
- Available Cases:
Same Day Music is an authorized dealer of
Schecter
products.