Same Day Music is an
authorized Schecter dealer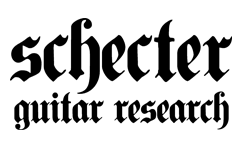 There's nothing like a Schecter V, the playability and hard-edge tone keep you rocking all night. The Schecter Gary Holt V1 is the epitome of metal guitar mastery with its mahogany body, Grover Rotomatic tuners, red EMG 81 and 89 humbuckers and Floyd Rose original tremolo. You don't have to be a fan of Exodus to love the look, feel and tone of this guitar.
Features:
- Three-piece mahogany set neck with Ultra Access
- Rosewood fingerboard with 22X Jumbo frets
- Grover Rotomatic tuners with 18:1 gear ratio
- EMG Active Custom Red 81/89 pickups
- Original Floyd Rose tremolo
Grover Rotomatics Tuners
based on the original Rotomatic, but with an improved higher ratio gearing. The 18:1 ratio provides for finer tuning and greater stability. The finer gears provide smoother tuning and a higher degree of backlash elimination.
Rosewood Fingerboard
The most common fretboard, rosewood is naturally oily, and works well for any surface that sees frequent human contact. The sound is richer in fundamental than maple because the stray overtones are absorbed into the oily pores.
EMG Active Custom Red 81/89 Pickups
Requested by Gary Holt in Red Custom made by EMG. The 81/89 set utilizes the powerful 81 in bridge position and the 89 in the neck position. 81- Powerful ceramic magnets and close aperture coils, the tone was designed with detailed intensity, incredible amounts of high end cut and fluid sustain. This pickup will make your leads slice right through even the densest mix. 89- Loaded with Alnico V magnets and has separate preamps each providing custom outputs for both dual coil and single coil modes.
3-Piece Mahogany Neck
Made with 3 pieces of mahogany for extra stability. 3 piece necks can withstand the test of time. Where standard necks may show aging defects from temperature and moisture changes throughout the years, the 3 piece neck will stay nice and straight for a lifetime of playability.
Bridge-Original Floyd Rose Tremolo
The Floyd Rose Tremolo System is used by more professionals throughout the world than any other. No copy can duplicate the patented double-locking design of the Floyd Rose Tremolo System that allows you to lock your guitar in tune at the nut and at the bridge. The Floyd Rose Tremolo System is engineered like no other tremolo system.
Same Day Music is an authorized dealer of
Schecter
products.
-
Construction:
Set Neck with Ultra Access
-
Body:
Mahogany
-
Neck:
3-piece Mahogany
-
Fingerboard:
Rosewood
-
Frets:
22X Jumbo
-
Inlay:
Exodus Pentagram
-
Bindings:
Red
-
Tuners:
Grover
-
Pickups:
EMG Active Custom Red 81/89
-
Electronics:
Volume with Tap, 3-Way Switch
-
Bridges:
Original Floyd Rose
-
Scale:
24.75 inches
-
Hardware:
Black
-
Optional Case:
SGR8V
Same Day Music is an authorized dealer of
Schecter
products.