Same Day Music is an
authorized Same Day Music dealer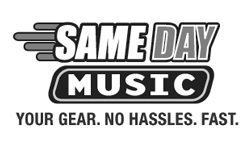 Tired of doing all the leg work in order to find the best PA system for the buck, only to come out short somewhere? With that thought in mind we put together this complete PA system giving you the proper connections, volume and reliability you rely on while making adding anything else you need later that much easier. Take the guess work out of coming up with a great PA system, we've made the best effort to choose the right gear for your needs.
PA System Contents:
1 x Behringer PMP2000 10-Channel Powered Mixer (800 Watts)
2 x Yamaha BR12 PA Speaker Cabinet (300 Watts, 12")
2 x OnStage SS7761B Tripod Speaker Stand
3 x Shure PG58 Performance Gear Vocal Microphone, With XLR to XLR Cables (20 Foot)
3 x OnStage 7701B Tripod/Boom Microphone Stand
2 x Stagg 1/4 inch to Speakon Speaker Cable (30 Foot)
Behringer PMP2000 10-Channel Powered Mixer
The PMP2000 powered mixer delivers more power, better sound at less weight!
The PMP2000 mixer delivers 800 Watts of massive power and incredible performance through new-generation amplifier technology, crystal-clear sound plus an ultra-compact and lightweight design. The 24-bit stereo FX processor, IMP mic preamps and more round off this impressive package of power features.
Get massive power and great sound in a lightweight package!
Features:
Ultra-compact 2 x 350-Watt stereo powered mixer (800 Watt bridged mode)
Ultra-Low Noise ULN design, high headroom and ultra-transparent audio
10-channel mixer section features 6 mono and 3 stereo channels plus separate CD/Tape inputs
Studio-grade 24-bit stereo FX processor with 100 awesome presets including reverb, chorus, flanger, delay, pitch shifter and various multi-effects
9 high-quality IMP "Invisible" Mic Preamps with switchable +48 V phantom power for condenser microphones
Effective, extremely musical 3-band EQ, switchable Pad and Clip LEDs on all mono channels
Dual 9-band graphic EQ allows precise frequency correction of monitor and main outputs
Selectable stereo (main L/R) or double mono (main/monitor) amplifier operation mode
Multi-functional stereo Preamp outputs and stereo Power amp inputs for added flexibility
High-quality components and exceptionally rugged construction ensure long life
Conceived and designed by Behringer Germany
Yamaha BR12 PA Speaker Cabinet
The new BR-Series from Yamaha combines affordability with high performance. Five BR models are designed to fit the budgets of performing musicians, small churches, and schools, while delivering the full frequency response and high output of more costly systems. While "BR" presents "bass reflex", it also proves very appropriate for describing the line's advanced feature set...
Built Right: Combining their knowledge of acoustics and advanced computer controlled woodworking, Yamaha Music Manufacturing in Thomaston, Georgia, crafts the BR line of sound reinforcement loudspeakers to exacting standards. Each model's large steel handles, corner protectors, and built-in pole sockets, assure both durability and flexibility.
Better Response: BR cabinets are carefully designed for the best balance of small, easy to handle size and great low-frequency response, using Bass Reflex technology. High-frequency response is also enhanced with a 1-inch new titanium HF driver and 90-degree by 40-degree non-resonant horn.
Best Reliability: All BR-Series models are covered by a three-year warranty. With integral protection circuitry built into the passive crossover, you can expect a long life of high output and minimal distortion. Whichever model you choose, your message is sure to be heard using BR-Series loudspeakers... and you can take the savings to the bank!
Shure PG58 Performance Gear Vocal Mic
The PG58 Vocal Microphone is a rugged mic tuned to accentuate the clarity of lead and back-up vocals.
Shure Performance Gear microphones are affordable and application-specific, ideal for everyday use and practice. They are the perfect introduction to Shure engineering excellence for performers ready to plug in and play out. Performance Gear Microphones provide a complete vocal, instrument and drum selection and feature many of the same durability and performance attributes of other Shure microphones at an attractive price. Real gear without compromise. As serious as you want to get.
Features
Tailored frequency response is smooth and extended. Tuned specifically for vocal applications.
Cardioid polar pattern picks up the most sound from in front of the microphone and some sound from the sides. Less susceptible to feedback in high volume settings.
Dynamic cartridge has a simple, rugged coil. Handles extreme volume levels without distortion.
Cartridge includes a neodymium magnet for high output level.
Internal shock mount for reduced handling noise.
Durable metal construction.
On/off switch for onstage control.
Hardened steel mesh ball grille that resists wear and abuse.
Integral "pop" filter reduces explosive breath sounds and wind noise.
Includes 15ft. (4.57m) cable, break-resistant mic clip and storage bag.
On-Stage 7701B Tripod/Boom Microphone Stands
Height adjustable mic stand comes with a durable tripod base and foldable legs for easy storage.
Features:
Solid cast end with standard 5/8-27 threads
Long 30 in. boom with molded plastic counterweight
Euro-Style boom with separate clutches for length and angle of boom. Allows user to make one-handed adjustments of boom angle while performing
Professional quality die-cast zinc clutch locks vertical shaft at any height from 36 - 63 in.
Clip-on cable holder
Steel-reinforced plastic leg housing offers less weight and exceptional strength
Folding legs with plastic endcaps for durability and reduced floor vibration. Base spread: 23"
On-Stage SS7761B Tripod Speaker Stands
An extremely versatile speaker stand, this reversible-shaft design may be used with either 1-3/8" or 1-1/2" speaker cabinet mounts. Includes the added safety of a locking shaft pin to prevent accidental speaker slippage.
Same Day Music is an authorized dealer of
Same Day Music
products.
Behringer PMP2000 Powered Mixer Tech. Description
Microphone Inputs
- Type: XLR, electronically balanced, discrete input circuit
- Frequency Response: <10 Hz-100 kHz (-1 dB), <10Hz- >200 kHz (-3 dB)
- Gain: +33 dB, +8 dB with pad
- Max Input Level: +12 dBu @ +12 dB gain
- Impedance: approx. 2.2 k ohms balanced/ 1.1 k ohms unbalanced
- Signal-to-Noise Ratio: 110 dB/ 114 dB A-weighted (-11 dBu IN @ +33 dB gain)
Distortion (THD+N): 0.001% / 0.008% A-weighted
Mono Line Inputs:
- Type: 1/4 inch TRS connectors, balanced
- Impedance: approx 80k ohms balanced, 40k ohms unbalanced
- Max Input Level: 30 dBu
Stereo Line Inputs
- Type: 1/4 inch TRS connectors, unbalanced
- Impedance: approx. 40k ohms unbalanced
- Max Input Level: +28 dBu
Equalizer:
- Low: 60 Hz / +/- 15 dB
- Mid: 700 Hz-8kHz/ +/- 15 dB
- High: 6 kHz / +/- 15 dB
Preamp Outputs left/mono & right:
- Type: 1/4 inch TRS connector, unbalanced
- Impedance: approx 1.5k ohms
- Max Output Level: +21 dBu
Monitor Output:
- Type: 1/4 inch TRS connectors, unbalanced
- Impedance: 1.5k ohms
- Max Output Level: +21 dBu
Power Amp Inputs:
- Type: 1/4 inch TRS connectors, unbalanced
- Impedance: approx 47k ohms
- Max Input Level: +21 dBu
Loudspeaker Outputs
- Type: Professional speaker connectors (compatible to Neutrik Speakon)
Load Impedance:
- Left/monitor: 4/8/16 ohms
- Right/mono main: 4/8/16 ohms
- Bridge: 8-16 ohms
DSP:
- Converter: 24-bit Texas Instruments, 24-bit Sigma-Delta, 64/128-times oversampling
- Sampling Rate: 40 kHz
Amplifier (Power Amp Output):
- Power @ 4 ohms: 250 w
- Power @ 8 ohms: 165 w
- Power @ 8 ohms (Bridge): 500 w
Power Supply:
- Mains Voltage: 120 V~, 60 Hz
- Power Consumption: max 1 kW
- Fuse: T 10 A H 250V
- Mains Connector: Standard IEC receptacle
Physical/Weight:
- Dimensions: approx. 11 x 18 1/8 x 10 5/8"
- Weight: 30.9 lbs
Yamaha BR12 PA Speaker Tech. Description
Woofer: 12"
Tweeter (diaphragm): 1 in. titanium
Frequency Response (-10dB): 65Hz-20kHz
Power Handling (noise*/program/peak): 150/300/600 Watts
Nominal Impedance: 8 ohms
Nominal Dispersion: 90-degree H x 40-degree V C.D.
Sensitivity (1W, 1m): 97dB
Input Connectors: 2 x 1/4" Phone
Dimensions (Approximate W x H x D): 15 3/4" x 22 1/2" x 13 1/4"
Weight: 35.2 lbs.
Shure PG58 Microphone Tech. Description
Microphone Type: Dynamic (moving coil)
Polar Pattern: Cardioid (unidirectional)
Frequency Response: 60 to 15,000 Hz
Polarity: Positive pressure on diaphragm produces positive voltage on pin 2 relative to pin 3 of microphone output connector
Output Impedance (at 1000 Hz): 300 Ohms
Sensitivity (at 1000 Hz): 53 dBV/Pa, (2.2 mV), 1 Pascal=94 dB SPL
Electromagnetic Hum Sensitivity: 26 dB equivalent SPL in a 1 millioersted field (60 Hz)
Switch: Builtin On/Off switch
Connector: 3pin professional audio connector (male XLR type)
Case: Die cast metal handle, black matte finish; hardened silver colored, spherical steel mesh grille
Environmental Conditions: This microphone operates over a temperature range of 29 to 57 degrees Celcius (20 to 135 degrees Fahrenheit), and at a relative humidity of 0 to 95%.
Weight:
Net: 321 g (11.3 oz.)
Packaged: 908 g (2 lbs.)
CERTIFICATION: Eligible to bear CE Marking. Conforms to European EMC Directive 89/336/EEC. Meets applicable tests and performance criteria in European Standard EN55103 (1996) parts 1 and 2, for residential (E1) and light industrial (E2) environments.
Same Day Music is an authorized dealer of
Same Day Music
products.