Same Day Music is an
authorized Seagull dealer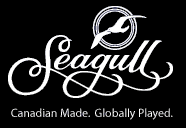 The Maritime SWS SG acoustic guitar, as with all SWS models, features all solid wood construction with a select pressure tested solid spruce top and solid mahogany back & sides. The Maritime SWS SG also features a semi-gloss custom polished finish with a beautiful satin sheen. This finish provides excellent protection but at the same time is extremely light and elastic. This is a crucial point in both the sound of the guitar and its ability to age - a thick finish muffles a guitar's vibration and blocks aging.
Maritime Solid Wood Series (SWS)
The Maritime Solid Wood Series features the dreadnought SWS Semi-Gloss, SWS High-Gloss & SWS Rosewood Semi-Gloss, as well as SWS Folk HG and SWS Mini-Jumbo HG. All solid wood construction is used in all four models including solid mahogany back & sides and select pressure tested solid spruce tops, all with a custom polished finish.
Select Pressure Tested Solid Tops
Each solid top is pressure tested to ensure its highest level of rigidity and stiffness along with maximum harmonic vibration. This benefits the overall tone, projection and resonance which in turn benefits the player and increases the lifespan of the guitar.
Adirondack Spruce Bracing
The Strength and lightweight qualities of Adirondack spruce make for ideal bracing material. It provides the strength needed to resist string tension without weighing down the top, allowing it to be more responsive and vibrate freely.
Custom Polished Finish
Reminiscent of the French polish of the 19th century, this finish gives the semi gloss a gorgeous satin sheen and the high gloss a lustrous shine as well as accentuating the natural wood grain of the instrument. More importantly, the Custom Polished finish allows the top to breathe and vibrate freely bringing out the true tone of the wood. This in turn promotes the ever important process, known as "aging", in which the guitar will actually sound better the more it is played over time.
Compound Curve Tops
Slightly arching the top above the sound hole resists downward pressure created by the fingerboard and increases the structural integrity of the top.
Integrated Set Neck System
The Integrated set neck system allows for more consistent and stable action while significantly reducing warping and twisting of the neck, largely attributed to changes in climate.
Tapered Headstocks
Provides straight string pull, which makes tuning and staying in tune much easier. Also great for open tunings.
Double-Action Truss Rods
The rod bends in both directions, which provides unprecedented control over the neck.
Features
- Select Solid Spruce Top
- Integrated set neck
- Solid mahogany back and sides
- Custom polished Semi-Gloss finish
- Limited lifetime warranty
Same Day Music is an authorized dealer of
Seagull
products.