Same Day Music is an
authorized Seymour Duncan dealer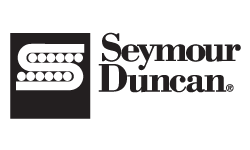 The Studio Bass Compressor is a studio-grade, classic compressor in a user friendly 4 knob format. Seymour Duncan's unique Blend knob and 3 way mini-toggle switch will allow you to select the frequency range of the original uncompressed signal as well as infinitely adjust the amount of "wet" versus "dry" signal that is routed to the output. It's often best to put a compressor at the beginning of your effects chain, but sometimes it can work more efficiently when placed after effects such as an auto wah or envelope filter. You won't do any damage by putting your effects in the so-called wrong order, so feel free to experiment and find what works best for your sound.
Same Day Music is an authorized dealer of
Seymour Duncan
products.
- BYPASS: TRUE BYPASS
- COMPRESSOR TYPE: VOLTAGE CONTROLLED AMPLIFIER (VCA)
- COMPRESSION RATIO: SOFT-KNEE, ADJUSTABLE FROM 1:1 TO > 20:1
- ATTACK SPPED: ADJUSTABLE FROM 8MS TO 27MS
- MAXIMUM COMPRESSOR GAIN: +33DB
- INPUT IMPEDANCE: 1 MEGOHM
- OUTPUT IMPEDANCE: 2.75K OHMS MAXIMUM
- MAXIMUM INPUT LEVEL: 3VRMS
- DISTORTION: <0.3% AT 300MV RMS OUTPUT AT 1KHZ
- NOISE REFERRED TO INPUT: - 110DBV, 400HZ - 20 KHZ. INPUT SHORTED
- POWER: 9V BATTERY OR 9V TO 18VDC REGULATED ADAPTER, CENTER PIN NEGATIVE POLARITY
- CURRENT CONSUMPTION: 21MA OPERATE. 19MA BYPASS
- DIMENSIONS: 2.60" WIDE X 5.0" LONG X 1.45" HIGH
- WEIGHT: 0.67 LBS.
Same Day Music is an authorized dealer of
Seymour Duncan
products.
Shipping Weights and Dimensions

Shipping Weight: 1 lbs
Shipping Dimensions: 6 x 5 x 3 in