Shure PSM 300 Twin Pack PRO Wireless In-Ear Monitor IEM System with SE215 Earphones
Web Item #SHUP3TRA215TW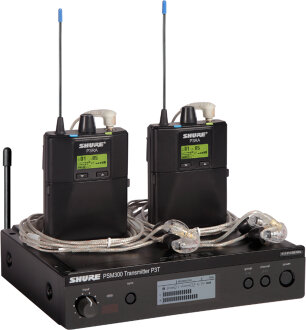 More Resources
Shure Warranty:
If you have additional warranty questions, please call the manufacturer at 800-25-SHURE
Because this item is used at your mouth or ear, it cannot be returned once opened due to health reasons.
Recommended Accessories for Shure PSM 300 Twin Pack Pro IEM Wireless In-Ear Monitor System
Shure PSM 300 Twin Pack PRO Wireless In-Ear Monitor IEM System with SE215 Earphones Product Description
Same Day Music is an
authorized Shure dealer

The Shure PSM 300 Twin Pack Pro is the ideal monitoring solution for up to two performers that provides a convenient, durable metal construction multi-bodypack system-in-a-box (optional use with SB900A rechargeable battery) with SE215 Sound Isolating earphones designed for clear, precise stereo mixes on stage.
Includes (1) P3T transmitter, (2) P3RA Pro bodypack receivers, two SE215-CL earphones, (2) eartip fit kits, (2) zip-able softshell earphone storage cases, rack mount brackets and hardware kit, (1) 1/4 wave antenna, BNC bulkhead adapter, 22" BNC cable, PS23 power supply, rubber feet for transmitter, four AA batteries, zippered receiver storage bag.
Same Day Music is an authorized dealer of
Shure
products.
User Reviews for Shure PSM 300 Twin Pack PRO Wireless In-Ear Monitor IEM System with SE215 Earphones