Same Day Music is an
authorized Steinberg dealer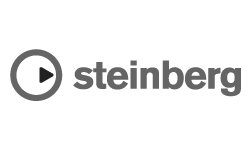 Hardware most skillfully meets software by combining the best of two worlds with the CI2 Advanced Integration USB studio and Cubase AI 5, the dedicated version of Cubase 5. As the name implies, the CI2 houses two major functions. There's the two-channel XLR combo interface equipped with two sophisticated microphone preamps and phantom power, one HI-Z for direct guitar input and a footswitch connector for Interactive Recording. This is seconded by the controller section featuring the innovative AI Knob that provides intuitive control due to seamless integration into Cubase. You now have all the tools in a single box to help you with whatever recording and production project you may have in mind.
Features
- A no-worry full-system solution to record music at an unbeatable price point
- Easy to use with the Project Assistant
- Browse functionality helps and assists throughout the project
- Interactive recording functionality allows hands-free recording with the optional footswitch and the optional mic stand adapter
- Advanced Integration system: totally integrated tactile control of the Steinberg Cubase range of production systems, maintaining complete focus on the project
- Ultra-precision AI controller knob: "point and control" support: controls any Cubase, FX or VSTi parameter using mouse-pointer selection for exhilarating speed
- AI-ready LED: when the LED lights up, the CI2 is ready to go! Instant plug and play -- no additional setup or parameter assigning required
- Two high-quality mic preamps with +48V phantom power with a fully USB-powered audio interface giving total freedom of mobile recording elaborate
- Outstanding engineering and component quality: precision components, manufactured by Yamaha to exacting standards
- Mac and PC compatible: cross-platform support for Cubase on Mac OS X, Windows XP and Windows Vista
The Steinberg CI2 is a USB-powered audio interface and controller with Advanced Integration features. Together, CI2 and Cubase AI 5 present a complete recording system, providing a plug-and-play solution for recording and editing vocals and instruments with a computer in next to no time. With 24-bit resolution and a sampling rate of 48 kHz, the CI2 offers a professional digital audio recording standard that lets you record the music in studio quality.
Instant plug and play with "AI Ready" LED
CI2 features full plug-and-play support, so there's no need to add the parameters to Cubase, only the easy, one-step installation of a USB device. Once the CI2 has been installed, Cubase detects the launched device and automatically embeds the CI2 into the Cubase production environment. Visual feedback is provided through the "AI Ready" LED. When it lights up, CI2 is ready to assume control. But instant plug and play is just one of the many advantages CI2 has to offer as a fully integrated controller of Cubase, forming one exhilaratingly powerful hardware/software production system.
Project Assistant
The Project Assistant provides a wealth of ready-made templates for different styles and scopes like recording, mixing, producing and mastering. The templates contain the number of channels, effects, dynamics, amp simulators and channel inserts -- tailored to your particular needs. Creating customized user templates and integrating those into the Launch browser makes recording with a DAW software and audio interface just that easy. Start up Cubase AI 5, hit the AI Knob and scroll down the list of provided templates. The chosen template is selected by pushing the AI Knob a second time. A new project is created with the necessary number of tracks, audio input and output routings, all effects, amp simulator, sounds and much more. Especially for CI2, plug-ins like the AmpSimulator and the ToneBooster have been added to Cubase AI 5. The guitar is simply plugged into the input of the CI2 and you can start creating songs in a jiffy. Thanks to this assistant, initializing a Cubase Project from scratch even saves professionals a lot of time -- and as you know, time is money.
Browse function
The Browse function in Cubase helps you in many different ways. The intelligent browsing system focuses on available files or sounds based on where you are currently in the production process. By using the AI Knob on the CI2 to select one of many project templates, track presets and other presets, there's no more excuse for using the mouse extensively. The Browse function also allows the user to listen in on samples while browsing, without having to load them first. As you see, CI2 supports you throughout the entire project.
Interactive Recording
The Interactive Recording functionality allows a sequence of up to six transport functions. This sequence can be started and operated with the optional footswitch or the Action Pad on the CI2, letting you control Cubase AI 5 hands free while playing an instrument and simultaneously getting a visual feedback from the Action panel in Cubase. The sequences can either be chosen from a list of templates or be customized. The Interactive Recording function provides full freedom of movement, doing away with mouse operation in specific situations and, more importantly, helps to maintain the creative flow. You can operate this functionality by the Action Pad or with the optional footswitch Yamaha FC5.
The optional mic stand adapter BMS-10A lets you attach the CI2 to a microphone stand and adjust it to the position that suits you best.
AI Knob
One of the most innovative features of CI2 is the revolutionary AI Knob, which is a "point and control" precision controller. Rather than attempting to replace traditional mouse pointing devices, the AI Knob harnesses the flexibility of a computer mouse to offer unprecedented speed when editing parameters and adjusting settings. The computer mouse is simply moved over the parameter, which is then automatically placed under full precision control through the AI Knob, with no need to make any additional settings in Cubase, any additional software module or on the interface itself.
The parameter can be locked to the AI Knob to retain control when the mouse is moved elsewhere onscreen. The AI Knob of the CI2 controls all Cubase mixing parameters plus VST3 and VST2 plug-ins. On the CI2, you find an enhanced version of the AI Knob featured on the Steinberg CC121 Advanced Integration Controller.
USB-powered
The CI2 is powered by the USB technology on one's computer. This means the user simply connects the CI2 to a USB port, even the +48V phantom power for two microphones doesn't require an additional power supply.
Cubase AI 5 included
Cubase AI 5 is a special, compact version of Steinberg's famed music production system. Based on the same technology as Cubase 5, Cubase AI 5 offers powerful yet easy-to-use software tools for audio recording, editing, MIDI sequencing and mixing -- exclusive to customers of selected Steinberg or Yamaha hardware.
Target Groups
For guitarists, singers and electronic music producers alike, by putting the CI2 USB studio and Cubase AI 5 in one box, Steinberg is offering the ultimate entry-level recording system solution. And with the featured Advanced Integration technology musicians are given aid during every step of the music creation process: from the first idea down to the final mix. Joining forces, the CI2 and Cubase AI 5 provides a host of tools to meet the individual demand of each and every user. To name a few: Interactive Recording mode for hands-free-recording is ideal for rock guitarist and easy editing functionality of the AI Knob CI2 is a big plus for dance DJs and hip-hop producers. Recording vocal lines, last night's session in the rehearsal room or the latest 60-minute mix, using both CI2 and Cubase AI 5 is as easy as it gets - with outstanding audio quality, massive features, all at mind-blowing price!
Singer/songwriter
CI2 and Cubase AI 5 present the ideal tool kit for singers and songwriters looking to record vocal lines, preparing playbacks and creating entire songs. The +48V phantom power of the CI2's two high-quality mic preamps provide all capabilities necessary to connect any dynamic or condenser microphone for recording vocal tracks.
Cubase AI 5 also offers virtual instruments and sounds for creating professional-sounding accompaniments, such as playback for vocal exercises or even an entire demo. Various effect plug-ins for editing vocals such as a high-quality EQ, compressor and reverb are readily available and easy to control with the CI2's AI Knob. With the CI2 and Cubase AI 5, recording and editing the user strumming the accompanying harmonies with the guitar while singing the melody is really convenient. The CI2's interface comes with a footswitch connector enabling hands-free recording in Cubase AI 5. Here the user has the choice between 14 different amp and 10 speaker cabinet emulations thanks to the AmpSimulator.
Guitarist
Guitarists benefit a great deal from putting CI2 and Cubase AI 5 together. The HI-Z input on the CI2 is best suited for the guitar's characteristics, letting the user plug an electric guitar or bass directly into the CI2 without the need for an additional DI box. The great-sounding AmpSimulator of Cubase AI 5 provides different amp and speaker cabinet emulations and, together with the ToneBooster, fans of hard and heavy styles will find plenty of quality sounds to work with.
One of the outstanding features provided by CI2 and AI 5 is the Interactive Recording mode, giving the user the absolute freedom to record a performance hands-free.
Electronic music producer
With CI2 and Cubase AI 5 combined into a single system, producers of electronic music will need to look no further for the perfect production kit.
In Cubase AI 5, the Arranger function allows for defining different segments of the song and playing them back in any order - a great tool for those live electronic performances There's also the HALion ONE sampler player which covers a wide range of sounds from which each producer is glad to draw. And this dedicated version of Cubase 5 can do so much more: with outstanding tools like the drum editor for programming quick and individual grooves, more than 30 audio effects for sound designing and mixing no wishes are left unmet.
Cubase owner
CI2 is, simply put, the ideal low-cost hardware for any Cubase owner who needs to record vocals, instruments, keyboards, percussion or any other audio source and also wants to edit any project easily. The Advanced Integration technology used by CI2 and Cubase alike provides a vast amount of functional enhancements not found in any other USB audio hardware. With Interactive Recording Cubase users are now able to control basic Cubase functions with the tap of a foot so that both hands are free to perform impeccable music. Cubase customers may also be motivated to purchase the CI2 from the same trusted brand as Cubase. What's more, with all the additional functionality available exclusively to the Cubase owner, the price value of the CI2 is much higher when compared to competing hardware units.
Same Day Music is an authorized dealer of
Steinberg
products.