Same Day Music is an
authorized Tama dealer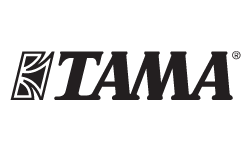 The FASTBALL Bearing in the Tama Speed Cobra is based on the precise bearing used in PC hard drives, automobiles and ABS systems. With the technology to produce this ultra-accurate bearing Tama's machining manufactures highly precise revolving movement and high durability in the toughest situations.
Tama adopted a true round-shaped LiteSprocket to give the bearing a more natural feel and smooth action. When comparing this sprocket with Iron Cobra's, this piece of equipment is lighter by 40%. Tama not only thought about the functionality of the Speed Cobra, but also about the sound that it would produce.
The Tama HP910LWCB Speed Cobra Double Bass Drum Pedal gives more sound projection and rich resonance because of the Projector Beater, which was designed specifically for this purpose. The convex head shape concentrates the power created from the beater stroke's movements to the smaller surface area. This angle makes for a more concentrated attack and punchy sonic penetration. By rotating the beater drummers may get a different sound entirely, such as hitting a larger surface area to get a fatter sound with more powerful volume.
The Super Spring not only provides quicker response and a smoother feel, but it also needs less momentum in the beginning of the pedal action.
Features:
- FASTBALL Bearing
- LiteSprocket
- Super Spring
- Provides quicker response and smoother feel
- Gives more rich resonance and sound projection
Same Day Music is an authorized dealer of
Tama
products.