Same Day Music is an
authorized Tama dealer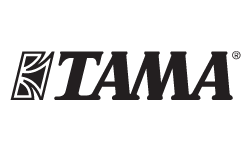 Whether you're looking for a kit for home recording, rehearsing or gigging, or you're just getting started playing, we defy you to find a better set with better features for the price. Plus it includes an Instructional DVD.
You're serious about drums. Tama's serious. That's why Imperialstar isn't a new name on an old design. Even the state-of-the art drum making facility where Imperialstars are created is completely new. Every aspect of Imperialstar was exhaustively examined, re-examined and rethought before it was allowed to be part of the final Imperialstar design.
Shells: 100% Poplar 6ply 7.5mm
Poplar wood has been used in making drum shell for over 50 years. It offers a full, warm tone combined with medium attack.(except metal snare drum)
100% Glued Finishes
Some drum companies only affix their wraps to the drum shell by taping the finish at select contact points. At TAMA, all of our wrapped finishes are glued to the shell 100% to eliminate warping, buzzing or lifting. This process allows the shell to resonate fully and consistently. It's more work, but it's worth it. A difference you can see and hear!
Drum heads
Batter side heads are made of clear Dupont Mylar film (250 microns thick) for richer tone and greater durability. Ring mufflers on bass drum heads remove the need for additional internal muffling.
Cymbals
It's time to raise the bar yet another notch. We've upgraded to even higher quality GERMAN-MADE brass cymbals that feature greater stick definition and livelier sound. The heavier weights and larger bells of these new cymbals offer brighter sounds, higher pitch and more cut than their predecessors-check out the 20 in. ride cymbal's bell, which has absolutely amazing cut! The hammer marks and brilliant finish provide an appearance that is as impressive and professional as the sound.
Noiseless Design
Just as with Tama's high-end Roadpro hardware, their new Stagemaster stands were designed with the elimination of noise a top priority. A special rubber cap at the end of the upper tube eliminates swaying and rattling, and a special nylon sleeve underneath the die-cast joint of the base section further reduces vibration and swaying.
Throne HT25
Universal height adjustment: Unlike other thrones in this price range, Tama's offers more height adjustment flexibility. Others use a bolt and nut through pre-set holes in the center tube. Seat Top: This 13 in. diameter seat is larger & more comfortable than the previous Swingstar seat.
Escape Claws
The "Escape Claws" rubber cushions support the snare drum by "floating" on the metal support arms for improved resonance. In addition, they help reduce fatigue by softening the impact on your arms and wrists while playing the snare drum.
Hi-hat Stand HH35W Spare-The-Rod-Hi-hat Rod Protector
No more hi-hat rods getting bent out of shape during transport! With Spare-The-Rod, you can save your hi-hat rod from the rigors of the road by packing it in the specially designed upper tube section of pipe.
Drum Pedal HP30 Beater Angle Adjustment
You won't find adjustable beater/footboard angles on most pedals in this price range. But Tama's HP30 comes standard with an angle adjustment system. Tama provides players with incredible versatility and adjustability.
Drum Pedal HP30 Dual Sided Beater
Now you can switch quickly and easily between the two very different sounds of nylon and felt. For an even bigger sound, the DS30 offers a larger hitting surface. Choose nylon for a snappy, wet sounding kick suitable for rock and heavier music. Choose felt for a bassier thump sound, good for all styles.
Precision Bearing Edges
A drum's bearing edge is one of the most important components in drum sound. Tama's advanced edge-cutting process provides extremely precise bearing edges - which allow their shells to ring openly and fully, and provide a wide range of tuneability, sensitivity and response.
New Design Lugs
Tama's new lugs are 10% smaller than the lugs of their previous Swingstar Series for even greater shell resonance. With Imperialstar, dead and lifeless drum sounds are a thing of the past.
Accu-tune Bass Hoop
A special formulation hi-tech material offers lighter weight, and faster, more stable tuning than traditional metal hoops. In addition, since Accu-Tune hoops use tension bolts instead of clawhooks and T-rods, head changes and packing up are a breeze.
Spur brackets
New design spur bracket features the same look and style as Tama'shigh-end Starclassic drums and provides maximum durability and stability.
Tom Holder
TAMA L-rod and Omnisphere tom holder systems have received acclaim from drummers for over 25 years. These systems offer easy positioning, maximum flexibility, stability and greater sound than standard designs which penetrate the shell interior and can inhibit resonance.
Boom / Straight convertible Tilter (HC33BW)/
If there's no room for a boom, simply convert to a straight stand! The boom arm stores neatly inside the upper tube.
Snare Stand HS30W
The Tama HS30W features a Universal Gearless Tilter. The universal tilter securely holds its position with metal-plate friction instead of traditional gears so you can adjust it to hundreds of positions with ease.
Hi-hat Stand HH35W Swivel Foot
Since the foot pedal can be rotated around the tripod base, the Swivel Foot feature greatly expands floor space and set-up flexibility.
Hi-hat Stand HH35W Safety bottom Seat
The scooped Safety Seat adds more stability to the bottom cymbal and can be adjusted for changes in hi-hat tone. Since the felt is fixed to the seat, it can't be lost during transport. You can finally get rid of those extra hi-hat cymbal felts.
Drum Pedal HP30 Spring Tension Adjustment
Inspired by Iron Cobra's Spring Tight feature, this specially shaped nut prevents the spring unit from loosening.
Same Day Music is an authorized dealer of
Tama
products.
Shell: 100% Poplar 6-ply/7.5mm
Drum Hardware: Hard chrome-plated
Drum Heads: Tama 250 micron head on batter side
Cymbal: German-made brass machine-hammered cymbals
Components
Drums:
18" x 22" Bass Drum
9" x 12" Tom
10" x 13" Tom
16" x 16" Floor Tom
5.5" x 14" Metal Snare Drum
Hardware:
Tom Holder
Straight Cymbal Stand
Boom Cymbal Stand
Snare Stand
Hi-Hat Stand
Bass Drum Pedal
Drum Throne
Cymbals:
MEINL "HCS" 14" Hi Hat Cymbals
MEINL "HCS" 16" Crash Cymbal
MEINL "HCS" 20" Ride Cymbal
Same Day Music is an authorized dealer of
Tama
products.