Same Day Music is an
authorized Tascam dealer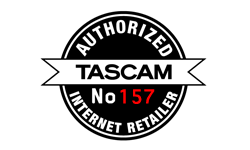 Tascam CD-R900SL
Even though most modern computers come with CD-R reading and writing optical drives, they just aren't reliable or powerful enough for professional audio applications. The Tascam CD-RW900SL is one of the most popular CD recorders on the market because it consistently provides the error-proof, reliable, high-quality performance that radio stations, post-production houses, and recording studios have come to expect.
Hi-Fi Audio Performance
You know as well as we do that it better sound good if you're going to trust it in your rig and the audio quality on the TASCAM CDRW900SL is top-notch. 24-bit analog-to-digital and digital-to-analog conversion ensures that nothing is lost, whether recording or playing back audio. TASCAM has also outfitted the CDRW900SL with both universal, high-quality RCA jacks and an S/PDIF digital optical jack for best-possible performance.
Keyboard Support
How many times have you found yourself scrambling through piles of jewel cases or sleeves, trying to find the name of the track your want to cue...What if your CD player could display all the meta data information you need like Track, Album and Artist Name, helping you keep track of what's playing without having to refer to the album cover? Support for PS2-compatible keyboards means you can enter your own "meta data" directly to a recorded CD so you can eliminate this issue all together. Poof. Problem solved.
Features Of The CD-RW900SL
- A robust slot-loading transport, 24 bit A/D & D/A converters, MP3 playback, key control, sample rate conversion, and selectable CD disc reading speed.
- Dedicated analog front panel input control, rear panel unbalanced (RCA) I/O, and S/DIF digital I/O (optical and coaxial).
- Auto Cue and Auto Ready
- Selectable I/R remote Enable/Disable
- MP3 Action Setting (prevents accidental termination of continuous MP3 playback).
Additional Features
- Pitch Control on playback (0.1 to 1.0% in 0.1 steps)
- Auto or Manual track division
- Sync Record Start
- Power on Play
- Elapsed
- Remain Total and Total remain Time display
- CD-Text read and write.
Internet radio stations, live broadcast studios, and post-production houses all need a reliable, convenient, professional CD recorder, and thanks to the low price you'll find on the TASCAM CDRW900SL it's easy to add a reliable archiving solution to your setup.
Same Day Music is an authorized dealer of
Tascam
products.
Specifications
- Slot Loading Transport
- 24 bit A/D and D/A converters
- Sample Rate Conversion
- MP3 file Playback
- MP3 Action setting
- Key Control (change the key w/o changing the speed)
- Pitch Control
- Auto Cue from menu
- Auto Ready from menu
- S/PDIF coaxial and optical digital I/O
- RCA Unbalanced analog I/O
- +/- 16% pitch control on playback
- Power on Play
- Sync Record Start
- Auto or Manual Track Division
- All, single, or A-B repeat play
- Elapsed, remain, total, and total remain time display
- Continuous, single, random, or program (up to 99 songs) play
- Erase or Un-Finalize for CD-RW discs
- Selectable disc reading speed
- Dedicated L/R input level control
- Digital Attenuator
- CD-TEXT read and write
- PS/2 Keyboard input for CD-TEXT input and remote control
- Wireless (I/R) remote control unit (included)
- Selectable Infra-red remote Enable/Disable
Same Day Music is an authorized dealer of
Tascam
products.