Same Day Music is an
authorized Tascam dealer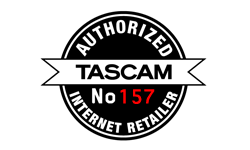 The Tascam DA-3000 is a high-performance master recorder, perfectly designed for stereo PCM/DSD recordings at high sampling frequencies suitable for archival masters. This magnificent unit is capable of recording analog and digital signals up to 192kHz PCM or 5.6MHz DSD. The DA-3000 records to both SDHC cards and UDMA-supported CF cards.
Variety of Inputs and Outputs to Handle Diverse Recording Situations
The variety of inputs and outputs enable connection with all types of studio equipment, including audio interfaces and mic preamps. The analog inputs and outputs include both XLR and RCA jacks. The digital connections include S/PDIF RCA coaxial and XLR jacks to support AES/EBU. The BNC SDIF-3 inputs and outputs support DSD digital connections.
Upgraded User Interface
With the goal of making a high-quality audio recorder and ADDA converter easy to use, Tascam designed the front panel with all of the necessary external controls and included long, brightly lit meters and display. The 128x64 OEL display allows you to check necessary information quickly, and the 24-dot level meters allows you to confidently monitor levels at all times.
Simultaneous Multitrack Recording and Playback with Multiple Cascaded Units
You can synchronize the operation of multiple DA-3000 units by interconnecting their digital inputs and outputs. Files that have been recorded in sync will have sample-level synchronization as well. In addition to stereo DSD recording of Jazz and classical music, this also makes simple DSD multitrack recording of bands possible.
Dual Mono Circuits Eliminate Interference Between Left and Right Channels
Use of a dual mono structure for the output circuit eliminates interference between the left and right channels and achieves high audio quality by maximizing the performance of the components. Two high-quality mono circuits are built into the unit. The left/right channels each use one highly-acclaimed Burr-Brown PCM1795 D/A converter chip. The TASCAM DA-45HR, which is still used in many studios, uses a dual mono structure with NE5532 op amps and Burr-Brown D/A converters. By using an equivalent output circuit structure including DA converters of even higher quality that support DSD, the DA-3000 provides a portable high-quality monitoring system.
Your Portable High-Quality Monitoring System
By installing the Tascam DA-3000 High Definition Solid State Master Recorder in a portable rack, you can set up reliable monitoring in any studio. You can connect it to a studio DAW system and a high-precision clock generator. At home studios, you can achieve same high-level monitoring quality to increase your work efficiency by using digital connections just like you would with a small audio interface.
AD Converter for Mastering
This unit can also be used as a high-quality AD converter at the end of an analog mastering chain. The fully-balanced, low noised circuitry and the high-quality AD circuitry convert the carefully adjusted audio using EQs and compressors into digital signals without sound degradation.
Simultaneous Master File Recording
Using High Sampling Frequency PCM/DSD Recording At the same time that you record a PCM master file (16-bit/44.1kHz) in software using a DAW system, you can also make a high sampling frequency PCM/DSD recording by connecting the DA-3000 directly to an analog mixer. By capturing two types of digital master recordings, you will be ready for future post-recording needs.
DSD Multitrack Recorder
Utilizing the DA-3000's clock precision, DSD multitrack recording is possible using multiple units. Since the DA-3000 can record two mono files instead of a stereo file, 8 units could be used together for 16-tracks of recording. Connecting the COAXIAL jacks is the only necessary connection between the units.
DA Converter for a PA/SR Digital Console
In recent years, digital consoles are being used increasingly in PA and sound reinforcement roles. By connecting the digital outputs of such a console to this unit you can upgrade the hall sound to an even higher quality. Since the DA-3000 has an OEL display and level meters with high visibility, you can check the signal status in the dark even from a distance.
Features:
- Stereo recording to SDHC card or CF card
- SD card slot (supports 4 to 32GB SDHC cards)
- CF card slot (supports UDMA)
- WAV file playback
- Cascade function enables simultaneous operation of multiple units
- Recording 2 mono files from stereo input possible
- Synchronized recording using level, stop time and recording start delay time setting
- Input level can be adjusted in 0.5dB step
- Folder playback function can be used to play all files in a folder
- Playlist function allows files to be programmed in advance for playback
- Divide and delete functions can be used to manage files that are already recorded
- Word clock master can be set to Internal, Word input or Digital inputs
- Oscillator function (440Hz, 1kHz, 10kHz)
- Input monitoring function allows input signals to be output without recording
- Dual mono circuits eliminate interference between left and right channels
- Fully-balanced circuits realize low noise
- 128x64 OEL display with a wide viewing angle
- 24-dot stereo LED level meters with adjustable brightness make checking levels easy
- Backup memory stores settings even when the power is off
- Fanless design eliminates unwanted noise
- Operation possible using included RC-10 wireless remote control
- Standard 1/4" headphones jack provides 45mW/ch output
- USB port for USB keyboard (supports USB 1.1)
- USB port for USB flash drive (supports USB 2.0)
- XLR digital input/output (supports AES3-2003 and IEC60958-4:AES/EBU formats)
- RCA Coaxial digital input/output (supports IEC60958-3:S/P DIF format)
- BNC digital input/output for DSD (supports SDIF-3 and DSD-raw formats)
- RCA analog unbalanced input/output
- XLR analog balanced input/output
Same Day Music is an authorized dealer of
Tascam
products.
- Supported media:
- SD: Supports 4GB to 32GB SDHC cards (Media ejection method: push-push)
- CF: Supports 1GB to 64GB Type I CF cards
- USB: (Playback and copying only) Supports 2GB to 64GB USB flash drives
- Recording and playback formats:
- PCM: BWF(rec/play) / WAV(playback only), 44.1/48/88.2/96/176.4/192kHz, 16/24bit
- DSD: DSDIFF / DSF,2.8224/5.6448MHz
- Number of channels: 2 mono(or 1 stereo)
- ANALOG INPUTS:
- UNBALANCED:
- Connecter: RCA pin jacks
- Standard input level: -10dBV
- Maximum input level: +6dBV
- Minimum input level: -22dBV
- Input impedance: 22k ohms or greater
- BALANCED:
- Connecter: XLR-3-31(1:GND,2:HOT,3:COLD)
- Standard input level: +4dBu
- Maximum input level: +15dBu,+18dBu,+20dBu,+22dBu,+24dBu(switchable in menu)
- Minimum input level: -8dBu
- Input impedance: 10k ohms or greater
- ANALOG OUTPUTS:
- UNBALANCED:
- Connecter: RCA pin jacks
- Standard output level: -10dBV
- Maximum output level: +6dBV
- Output impedance: 200 ohms or less
- BALANCED:
- Connecter: XLR-3-31(1:GND,2:HOT,3:COLD)
- Standard output level: +4dBu
- Maximum output level: +15dBu,+18dBu,+20dBu,+22dBu,+24dBu(switchable in menu)
- Output impedance: 100 ohms or less
- USB:
- DEVICE:
- Connecter: 4-pin USB A-type
- Protocol: USB 2.0 HIGH SPEED(480Mbps)
- Power rating: DC 5.0V 0.5A
- KEYBOARD:
- Connecter: 4-pin USB A-type
- Protocol: USB 1.1 FULL SPEED(12Mbps)
- Power rating: DC 5.0V 0.2A
- Infrared receiver: TASCAM RC-10 wireless remote controller
- Power consumption: 24W
- Dimensions: (W x H x D) 483 x 45 x 305mm
- Weight: 4.2kg
- Operating temperature range: 0 - +40*C
- Standard accessories: 3P power cord, Wireless remote controller (TASCAM RC-10), coin battery for testing remote control (preinstalled), screw kit for rack-mounting, warranty card, Owner's manual
Same Day Music is an authorized dealer of
Tascam
products.
Shipping Weights and Dimensions

Shipping Weight: 12 lbs
Shipping Dimensions: 22 x 16 x 6 in