Same Day Music is an
authorized Tascam dealer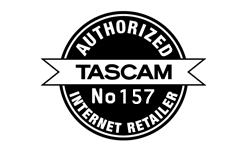 The TASCAM DP-32 Portastudio is the best and most affordable way to remove the mind-numbing glow of the computer screen from personal recording. It's safe to say, that after decades of manufacturing and transforming Portastudios, TASCAM has revolutionized the series once again. Employing 8 combo 1/4"- XLR inputs with +48V Phantom Power, 32 tracks (8 mono, 12 stereo) the ability to select between stereo and mono and an affluence of other key features, TASCAM's DP-32 is the obvious choice for multi-channel home recording.
Versatility
One common theme you will always find in TASCAM products is versatility, and what better way to prove that than with the wide array of features in the TASCAM DP-32. They have included dozens of effects you can mix, blend and combine to reach your desired sound between 32 channels. There is a true art to how you mix different effects on individual tracks and then orchestrate them together to achieve your final product. The DP-32 supplies all of the necessary tools. Built-in Amp Models, Equalizer, Delays, Compressors and various other effects give you all of the options you could imagine. You can also utilize a series of master effects before you burn your recording to CD with the built-in CD-RW Drive. The DP-32 also gives you the option to record up to 12 stereo tracks for keyboards, MIDI instruments or bouncing down larger instrumentations such as your drum tracks.
On the back of the unit you will find not only the eight Combo Inputs, but MIDI in and out for use with your controller and drum machines, Monitor Out for confident recording, Effect Sends and RCA Stereo out. You will also find the SD slot and USB port on the back of the unit. SD Cards keep the device much more portable, offer a quieter working environment and are much more stable than hard drives. The USB is available for bouncing tracks to your computer for storage or further mixing if desired. Employ the USB for loading up other sounds like backing tracks or drum loops as well.
Quality Design
TASCAM took great consideration into the design of everything from the layout of the device, software and structure to the gorgeous color LCD screen. The high-resolution screen is easy to read, the software is easy to maneuver and the dedicated controls on the outside of the unit take all of the stressors out of recording. TASCAM's design ensures that you can focus all of your attention on sound creation and your songs. The unit itself is incredibly rugged and compact to truly keep it a portable unit. With TASCAM's DP-32 you can record virtually anything you want, anywhere you want.
Same Day Music is an authorized dealer of
Tascam
products.
- Simultaneous 32 track playback
- 8x monaural tracks + 12x stereo tracks
- Stereo tracks can be used as monaural tracks. (selectable)
- Integrated 40-input mixer to mixdown the 32 playback tracks with the eight inputs and for bouncing.
- Simultaneous eight track recording
- Sample rate : 44.1kHz, 48kHz
- Bit depth : 16bit, 24bit
- Eight x combo jacks for mic(XLR jack) and line(1/4" TRS jack) inputs for input A-H
- High quality mic pres with phantom power (switchable every four inputs)
- Guitar (Hi-Z) input selectable on input H
- Unbalanced stereo outputs (2x RCA jack)
- Balanced stereo monitor outputs (2x 1/4" TRS jack)
- Two unbalanced effect sends (2x 1/4" TS jack)
- Stereo headphone outputs (1/4" TRS jack)
- MIDI input and output for MMC, Control change and MTC output
- Remote input (2.5mm mini TRS jack) to connect a RC-3F.
- CD-RW drive to burn stereo master file/recorded tracks and also to import CD-DA
- Input effects (Limiter, Compressor, Noise suppressor, Exciter)
- Guitar effects (Amplifier simulator, Reverb, Compressor, Chorus, Flanger, Phase shifter..)
- Mixdown effects (Reverb, Delay, Stereo chorus)
- Mastering effect (Single/Multi-band stereo compressor, EQ, Noise shaping)
- Bounce functionality to mix input signals and playback tracks, and record the mixed signal(s) to track(s)
- Virtual tracks capability
- Mark function
- File transfer capability as USB mass storage device of a computer
- Chromatic Tuner
- Metronome
- AC adaptor included (TASCAM PS-1225L)
Same Day Music is an authorized dealer of
Tascam
products.