Same Day Music is an
authorized Tascam dealer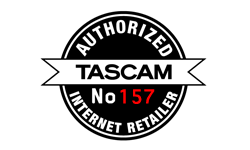 The TC8 from Tascam is the ideal tuner and metronome for educators, students and professionals. The chromatic tuner features a fast detection chip and 5 inch wide, backlit LCD display for instant pitch feedback. Four display modes are available for the clearest display. The Tascam TC8 tuner can be calibrated to a piano or other installed source, and eight tuning modes include historic and alternate tuning modes for period instruments. An oscillator plays through a built-in speaker for groups or classes.
In addition to features for guitarists, the Tascam TC8 acts as a desktop metronome. The metronome ranges from 30 to 300 BPM with seven accent values, played through a built-in speaker. The LCD also conducts the beat for visual feedback, and Tap Tempo is available for finding the metronome value of your own music. A flip-out stand, music stand clip and tripod mount offer other mounting options.
Tascam TC8 Tuner and Metronome Features
- Chromatic tuner
- Tuning modes: Equal Temperament, Pythagorean, Mean tone, Werckmeister III, Kirnberger III, Kellner, Vallotti, Young
- Metronome with 30-300 BPM range and seven accent values
- 5 inch Wide backlit LCD display with note value and bargraph displaying pitch deviation
- Four display modes: Bargraph, Fine, Strobe Animation and Needle
- Oscillator for playing pitch
- 1/4 inch input jack
- Built-in speaker for pitch and metronome
- Built-in microphone for acoustic instruments
- Tuner Calibration mode
- Flip-out stand for tabletop use with hooks for music stand mounting
- Tripod mount
Same Day Music is an authorized dealer of
Tascam
products.