Same Day Music is an
authorized Tech 21 dealer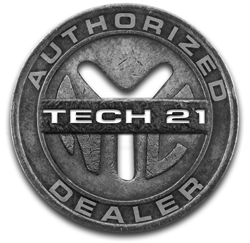 The Power Engine 60 is a 1 x 12 open-backed extension cabinet. It packs 60 watts of transparent power and has a special design speaker, individual level control, 3-band active tone controls, and balanced XLR input, 1/4 in. input, and balanced XLR output. The Power Engine 60 matches and complements the Tech 21 Trademark 60 two-channel, combo amp.
Continuing the tradition of designing multi-functional products, this handsome cabinet can also be used with any direct recording device or acoustic pre-amp, analog or digital, tube or solid state, in stomp box or rackmount formats, from any manufacturer! That's right: Zoom, Boss, Digitech, Hughes & Kettner, Marshall, Fishman, L.R. Baggs, or even Tech 21's own line of SansAmps!
Without having to tweak all of your presets, you can take all those great direct recording sounds you've spent so much time creating out to a gig and amplify them. Just plug your SansAmp or other preamp into a Power Engine 60 and get all the volume you need without any additional coloration. Knowing that not all rooms are created acoustically perfect, you can compensate for less than ideal circumstances simply by adjusting the convenient, onboard active EQ controls.
With ground-independent inputs and output, there's no limit to how much power you can have. You can chain Power Engine 60s together from New York to Tokyo, and back if you like. Power Engines can also facilitate stereo configurations - with a traditional amp or with a preamp and stereo processor.
Whether you need an extension cabinet for your Tech 21 amp, SansAmp or preamp gizmo du jour, just multiply by 60 until you run out of fingers! If you've already got great tone and just need some extra volume, kick it up with 60, 120, or even 600 watts of raw muscle with the Power Engine 60.
Same Day Music is an authorized dealer of
Tech 21
products.
The Power Engine 60 is covered in black vinyl with a custom beige grill and decorative white piping to complement the Trademark 60 - the 1x12, 60-watt, 2-channel guitar combo amp, and the Trademark 10 - the 1x8, 10-watt direct recording combo amp.
- Model Number: PW60
- Input Impedance: 10k ohms
- Nominal Input Level: -20dBm to +4dBm
- Optimal Output Load: 8 ohms
- Power Output: 60W
- Maximum Power Consumption: 120W
- AC Input Power (factory set): 100V, 117V, 220V, 230V, 240V
- Cycles: 50/60 Hz
- PW60 Speaker: Model #2112-A, Special design 12 in. 100W - 8 W
- Dimensions (W x H x D): 20 x 17 x 11 in.
- PW 60 Weight: 33 lbs.
Same Day Music is an authorized dealer of
Tech 21
products.