Same Day Music is an
authorized T-Rex dealer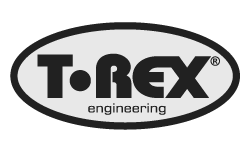 Room-Mate from T-Rex Engineering is the sweetest-sounding reverb pedal you've ever heard. That's because the four guitar reverb presets are only the start of the rich, warm sound that this box delivers. A built-in 300 volt power supply takes the whole effect to the next level--powering a T-Rex tube that adds a voluminous, earthy warmth to incredible detail and spacious true stereo.
But don't take T-Rex's word for it - plug your guitar into Room-Mate just once - and you'll never want to use another reverb again.
Four signature sounds.
Room-Mate's mode knob gives you a choice of four signature presets.
1. Spring mode that will simply blow your mind.
2. Warm Hall gives you a bigger sound with a natural warmth.
3. With superb high-end resolution, Bright Hall gives you amazing detail.
4. Chorus with Warm Reverb is sweet-sounding effect for bringing your acoustic guitar to life on stage.
Mix, high cut, stereo out.
To shape your sound further, Room-Mate features a mix control and a high cut knob for increasing definition or backing off on the highs vintage-style. And there's naturally a stereo out for the studio or stereo live situations.
Same Day Music is an authorized dealer of
T-Rex
products.
FAQ
1. Does the Room-Mate work with other power supplies, than the one it comes with?
ANSWER: Yes. It works with any power supply giving 12 volt DC. The power supply has to give at least 300 mA.
2. Is the reverb TRUE stereo, or does it have dual mono reverb outputs?
ANSWER: Yes, it is true stereo. Mono in - stereo out.
3. Can the Room-Mate be used as a mono reverb into a combo amp by using just one of the outputs? Or does it sound weird unless you use both outputs?
ANSWER: It is exactly made for mono reverb. It sounds perfect, when you are using just one output. The other (stereo) output is optional.
4. How is the tube used in the circuit? To gain up the wet portion only?
ANSWER: No. The tube sits in the master output, so the dry signal also gets warm. The wet and dry signal are joined before going through the tube.
5. Can the Room-Mate be used as a clean boost?
ANSWER: No. If you set "MIX" down and "Volume" all up, it gives "unit to gain" - no boost. We did this un purpose to keep the pedal neutral and clean. You can always boost your signal by using the T-Rex Moller or another booster.
6. Does the dry portion of the guitar signal go thru the converters?
ANSWER: No. The dry signal passes through the pedal - to the tube, and then out.
7. Are 24 bit A/D & D/A converters used in the Room-Mate?
ANSWER: Yes. Exactly.
8. What kind of tube is used for the Room-Mate?
ANSWER: A T-Rex customized 12 AX7 tube.
9. Is it possible to change the tube in the Room-Mate?
ANSWER: No, by changing the tube you may damage the construction of the pedal.
If the tube is changed, the warranty is no longer valid.
Specs
4 modes
T-Rex tube
MODE, MIX, LEVEL and HIGH CUT knobs
ON/OFF switch
3 jacks (in/stereo out)
100-240 volt wall wart provided
Lilac color.
Effect usage: 330 mA
Version 2
Designed by the T-Rex guitar geniuses in Denmark with a 2 year unconditional warranty
Same Day Music is an authorized dealer of
T-Rex
products.