Same Day Music is an
authorized Universal Audio dealer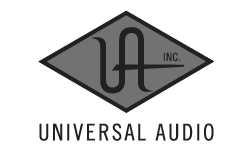 The 1176LN Classic Limiting Amplifier is a modern reproduction, yet every effort was made to remain faithful to UA founder Bill Putnam Sr.'s visionary design and intentions. The original UA 1176LN was a major breakthrough in limiter technology--the first true peak limiter with all transistor circuitry offering superior performance with a signature sound--and set the standard for all limiters to follow. The ultra-fast attack time and trademark sound have lured legendary artists and studio moguls alike to the 1176LN--Peter Frampton, Joe Satriani, Joe Chiccarelli, Vance Powell, and Mike Elizondo are just a few names on a list that's continued to grow, for nearly 50 years.
Carefully trained staff hand-wire and test each unit until it meets UA's uncompromising standards. This Universal Audio Classic version of the 1176LN captures all the nuance of the original through obsessive attention to detail and delivers that trademark sound. Demand the original. Accept no copies.
Features:
- FET-Style Compressor with Class A Output & Custom Transformers
- True to the original 1176 in design, manufacturing and performance
- Class A line level output amplifier
- Custom built Putnam-designed output transformer
- Modeled after 1176LN, blackface, D and E revisions
- Ultra-fast attack time - 20 microseconds to 800 microseconds
- Stereo interconnect operation
- Hand-built in USA; backed by 1-Year limited warranty
Same Day Music is an authorized dealer of
Universal Audio
products.
Specifications
Input Impedance: 600 ohms, bridges-T control (floating)
Output Load Impedance: 600 ohms, floating, damping factor 20
External Connections: Jones Barrier terminals and XLR connectors
Frequency Response: (+/- 1dB) 20Hz to 20kHz
Gain: 50 dB
Distortion: Less than 0.5% total harmonic distortion from 50Hz to 15kHz with limiting
Signal to Noise Ratio: Greater than 70 dB at +10 dBm
Attack Time: 20 microseconds to 800 microseconds, plus "Slo" 10 ms mode
Release Time: 50 milliseconds to 1.1 seconds
Stereo Interconnection: via 1176 SA Network accessory (not included)
Meter: dB gain reduction and dB output
Power Requirements: 120/240 V
Environmental: Maximum operating temperature 160 degrees (F)
Dimensions: 19" Rackmount chassis, 2U
Weight (unboxed): 11 lbs.
Same Day Music is an authorized dealer of
Universal Audio
products.