Same Day Music is an
authorized Universal Audio dealer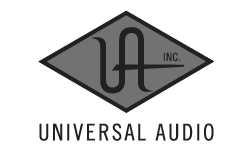 Finally, a true stereo 1176! With over 2000 units already sold to date since the year 2000 re-birth of Universal Audio's 1176LN, it is clear the public's love affair with the legendary sound of the 1176 is still as passionate as ever.
Features
- Sound and Features of the Original 1176LN
- Classic Custom 1176LN Output Transformers
- Stereo or Dual Mono Operation
- Totally Independent Compression and Gain Controls in Dual Mono Mod
- Matched FETs and Output Transformers
- Rack Space Convenience of Two 1176s in a 2U Rack Design
The 2-1176 builds from the circuit design of UA's hugely successful 6176 Channel Strip and combines two 1176 channels from that unit -- an uncompromising design, with all the same components - stereo matched to boot!
With the release of the 2-1176, UA once again put that sound into your rack but with twice the tone, twice the character and twice the compression -- at an unbelievable price, and half the space. As you would expect from UA, it also retains all the features and trademark sound of its ancestor, and switches easily between dual mono and stereo link.
And yes - it does have an All-Button!
Same Day Music is an authorized dealer of
Universal Audio
products.
Specifications
Input Impedance: Selectable, 15k W or 600 W
Output Load Impedance: 600 ohms, floating,
External Connections: XLR connectors
Frequency Response: +/-1 dB 20 Hz to 20kHz
Gain: 40 dB, +/- 1dB
Distortion: Less than 0.5% total harmonic distortion from 50 Hz to 15 kHz with limiting, at 1.1 seconds release setting. Output of +20 dBm with no greater than 0.5% T.H.D.
Signal to Noise Ratio: Greater than 85 dB
Attack Time: 20 microseconds to 800 microseconds
Release Time: 50 milliseconds to 1.1 seconds
Stereo Interconnection: Chan. A Attack and Release links to Chan. B via LINK mode
Meter: dB gain reduction and dB output
Power Requirements: 120/240 V
Dimensions: 19-inch Rackmount chassis, 2U
Weight (unboxed) 9.6 lbs.
Same Day Music is an authorized dealer of
Universal Audio
products.