Same Day Music is an
authorized Universal Audio dealer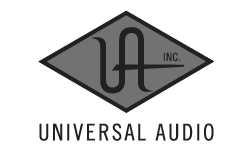 The Universal Audio Apollo X8 Thunderbolt 3 Audio Interface allows music producers, project, and post-production studios to track, overdub, and mix with world-beating A/D and D/A conversion, HEXA Core UAD plug-in processing, and 7.1 surround sound monitoring all in a sleek single rackmount Thunderbolt 3 audio interface for Mac or PC.
Built upon UA's 60-year heritage of audio craftsmanship, this 18 x 24 interface distinguishes itself with four Unison-enabled mic preamps, providing authentic emulations of preamps from Neve, API, Manley, Helios, SSL and more, plus HEXA Core processing yielding 50% more DSP for running UAD Powered Plug-Ins in real time.
In addition to its elite-class audio conversion, Apollo x8 features selectable operating level for compatibility with professional +24 dBu gear, as well as an integrated monitor controller and built-in talkback mic.
Elite-Class A/D and D/A Conversion
With thousands of chart-topping songs and hundreds of Grammy-winning albums under their belt, Apollo interfaces are no strangers to tracking stellar-sounding records. To improve on the previous generation Apollo interface's class-leading audio conversion, UA engineers obsessively auditioned the latest A/D and D/A converters ultimately pairing elite-class 24-bit/192 kHz converters with analog circuitry for an ultra-pristine signal path.
With 129 dB dynamic range and 128 dB TD+N, Apollo x8's open, natural sound quality rivals any dedicated high-end converter on the market regardless of price and is the perfect starting point for applying UAD processing.
Realtime UAD HEXA Core Processing
Apollo x8 features HEXA Core processing, with six DSP chips and 50% more UAD plug-in processing power than previous Apollos. This lets you run more UAD plug-ins, whether you're tracking in real time with channel strips from Neve, Manley, or API, or running high UAD plug-in counts when mixing in your DAW.
From the tube warmth of Pultec EQs on guitars to the musical tube limiting of the LA-2A on vocals, or the pump of a genuine 1176 or Fairchild 670 tube compressor on drums, your recordings will take a giant leap forward with a rich, three-dimensional analog sound that UAD plug-ins provide.
Unison Technology: The Genuine Sound of Neve, API, & Manley Preamps
Perfect for musicians, engineers, producers, and sound designers, Apollo x8 features four Unison-enabled mic preamps, letting you track through exacting mic preamp emulations from Neve, API, Manley, SSL, and Universal Audio. A Universal Audio exclusive, Unison technology nails the tone of these sought-after tube and solid state mic pres including their input impedance, gain stage "sweet spots," and the component-level circuit behaviors of the original hardware.
The secret to Unison is its hardware-software integration between Apollo's mic preamps and its onboard Realtime UAD processing.
A Full Suite of Classic Analog Processing Onboard
Of course, a hallmark feature of Apollo is its Realtime UAD Processing, letting you run the full library of UAD plug-ins with near-zero latency.
Features
- Experience elite-class A/D and D/A conversion nearing the widest dynamic range and lowest signal to noise available at any price
- Track and mix with powerful HEXA Core processing, featuring 6 UAD DSP chips for running more award-winning UAD Powered Plug-Ins in real time
- Record with near-zero latency through preamp emulations from Neve, API, Manley, Fender, and more using Unison technology
- Easily connect to pro-level studio gear with switchable +24 / +20 dBu headroom settings
- Work in surround formats up to 7.1, complete with speaker calibration and fold-down
- Integrated talkback and built-in cues for easy communication and slating takes
Same Day Music is an authorized dealer of
Universal Audio
products.