Same Day Music is an
authorized Vox dealer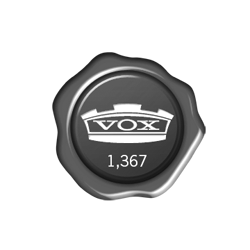 The Vox AC15 hit America on the crest of the British Invasion over 50 years ago. The AC15C1PL still relies on a trio of 12AX7 preamp tubes, EL84 power amp tubes, and genuine G12M Greenback speaker. The Vox AC15C1PL offers two channels; Normal and Top-Boost. Each channel is equipped with its own Volume control; the Top Boost channel offers highly interactive Treble and Bass tone controls. The Tone Cut control operates in the power stage rather than the preamp stage, allowing an additional degree of tone-shaping. The Master Volume control works in conjunction with the individual volumes of each channel to create just the right degree of gain-staging.
By balancing the individual and Master volumes, the Custom Series can deliver the coveted clean VOX "chimey" sound or a powerful overdriven tone - and everything in between. The Custom Series AC15C1, decked out in Limited Edition Purple vinyl wrap with Tygon fret cloth.
Features:
- Tube complement: 12AX7 (x 3); EL84 (x 2)
- Single 12" Celestion G12M Greenback Speaker
- Tremolo (Speed/Depth)
- Spring Reverb (Level)
- Switchable via optional VFS2A pedal
- Master Section features Master Volume and Tone Cut controls
- Extension and External speaker outputs
- Distinctive VOX Styling
Same Day Music is an authorized dealer of
Vox
products.
- Output Power: 15 Watts RMS into 16 Ohms
- Tube Complement: Preamp: ECC83 / 12AX7 (x3) Power amp: EL84 (x2)
- AC15C1-PL Speakers: 12" Celestion G12M Green Back (x1); 16 Ohm
- Inputs: NORMAL Channel; TOP BOOST Channel FOOT SWITCH Jack
- Controls: NORMAL Channel: Volume TOP BOOST Channel: Volume, Treble, Bass REVERB: Level TREMOLO: Speed, Depth MASTER: Tone Cut, Volume
- Outputs: Extension Speaker Jack, External Speaker Jack
- Dimensions (W x D x H): 602 x 265 x 456 mm / 23.70 x 10.43 x 17.95 inches
- Weight: 22. kg / 48.5 lbs.
Same Day Music is an authorized dealer of
Vox
products.