Same Day Music is an
authorized Vox dealer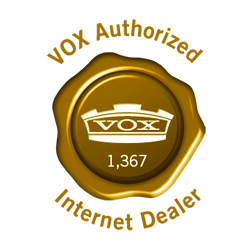 The Vox amPlug APAG Acoustic headphone amplifier quickly creates shimmering, rich acoustic guitar sounds. Two distinct sounds are available using the Fat/ Bright switch. The Blend combines the acoustic tone with the original signal for just the right mix. In combination with electric guitar's own tone controls and pickup selection, the sound variation is unlimited. The ultra-long battery life provides up to 27 hours of extended enjoyment. At home, in the studio and on the go, amPlug Acoustic delivers superb acoustic guitar sounds anytime, anyplace.
The headphone guitar amp that lets you enjoy serious guitar sound, fast.
Jamming late at night? Don't want to wake the neighbors? The amPlug Series of palm-sized headphone guitar amps make it easy to enjoy great guitar sounds at home, in your room, or anywhere. Simply plug the amPlug directly into any guitar, attach a pair of headphones, and you're ready! Use the AUX input jack to plug any CD/MP3 player right into the amPlug and jam along. Connect the optional amPlug Cabinet (sold separately) to create a miniature amp stack to share the sound with friends.
You want to play guitar right now. amPlug is the answer.
amPlug can be used in numerous ways
With up to twenty seven hours of battery life, it's easy to take amPlug anywhere. In addition to practicing at home, it's a great way to warm up before a live performance or on the road. And amPlug is not just a convenient way to get great guitar sound. There's also an AUX input jack so you can jam along with your CD/MP3 player.
Features:
- Acoustic features Fat/Bright switch which offers two types of acoustic sounds.
- Acoustic also features blend control which mixes the acoustic tones with your original signal for just the right mix.
- Up to 15 hours of battery life with two Alkaline AAA batteries.
- Quick and easy setup! Just connect amPlug to your guitar and enjoy serious sound.
- The amPlugs can be used with the optional amPlug Cabinet
Same Day Music is an authorized dealer of
Vox
products.
- Power supply: Two AAA batteries
- Battery life: with alkaline batteries: approximately 27 hours (with zinc-carbon batteries: approximately 10 hours.)
- Dimensions (W x D x H): 86 x 80 x 31 (mm), 3.39" x 3.15" x 1.22"
- Weight: 40g /1.41oz. (not including batteries).
- Included items: two AAA zinc-carbon batteries
Same Day Music is an authorized dealer of
Vox
products.