Same Day Music is an
authorized Vox dealer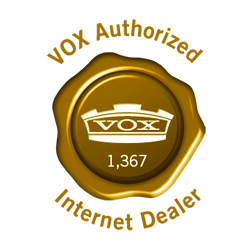 The Vox amPlug Twin rolls back the years to capture the sound of the legendary clean American dual speaker combo tube amp. Noted for its sparkling and sustained clean sound, this amp has been is widely used in many genres - rock, blues, jazz, country, and more. Raising the gain provides a powerful American tube overdrive sound. A stereo chorus effect is built into the amPlug Twin, adding natural spaciousness and depth to the sound. As you play these sounds, you're sure to forget the passage of time, and lose yourself in the tones loved by musicians in styles such as jazz, country, and blues.
The headphone guitar amp that lets you enjoy serious guitar sound, fast. Jamming late at night? Don't want to wake the neighbors? The amPlug Series of palm-sized headphone guitar amps make it easy to enjoy great guitar sounds at home, in your room, or anywhere. Simply plug the amPlug directly into any guitar, attach a pair of headphones, and you're ready! Use the AUX input jack to plug any CD/MP3 player right into the amPlug and jam along. Connect the optional amPlug Cabinet (sold separately) to create a miniature amp stack to share the sound with friends.
You want to play guitar right now. amPlug is the answer.
Features:
- Plugs directly into your guitar/ bass -- a great-sounding headphone guitar amp that gives you serious sound fast.
- AUX in jack lets you jam along with your CD/MP3 player.
- 100% analog circuit faithfully simulates the response of the original amps.
- amPlug Twin Recreates the sound of the classic American clean 2 x 12" combo amp, plus a chorus effect.
- Up to 15 hours of battery life with two Alkaline AAA batteries.
- Quick and easy setup! Just connect amPlug to your guitar and enjoy serious sound.
Same Day Music is an authorized dealer of
Vox
products.
- Controls: Gain, Tone, Volume; STANDBY/ON/FX switch
- Terminals: PHONES Jack (stereo), AUX In Jack (stereo)
- Power supply: AAA batteries (x 2)
- With alkaline batteries: approximately 24 hours
- Battery life: amPlug Twin (FX on):
- With zinc-carbon batteries: approximately 3 hours
- With alkaline batteries: approximately 11 hours
- Dimensions (W x D x H): 86 x 80 x 31mm/3.39" x 3.15" x 1.22"
- Weight: 40 g/1.41 oz. (not including batteries)
- Included items: AAA batteries (X2) (for verifying operation)
Same Day Music is an authorized dealer of
Vox
products.