Same Day Music is an
authorized Vox dealer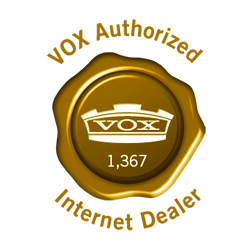 The Vox TRFZ Trike Fuzz octave pedal offers a unique tonal signature from Tone Garage's all analog circuitry. This is an octave fuzz overflowing with vintage character, utilizing specially selected diodes. It covers not only a range of one octave up, but also two octaves down. You can choose three types of octave settings: +1 or, -1 and -2, or all upward and downward octaves to obtain thick vintage fuzz sounds. In addition, there's a tone control for +1 octave and a volume control for -2 octave. Since the Trike Fuzz operates the downward octave circuits in series and combines them in parallel with the upward octave at the end, you can create a diverse range of sounds that cannot be obtained with existing octave fuzz units.
Features:
- Discrete circuitry
- the result of a relentless design philosophy
- True bypass design provides tonal confidence even when the effect is off
- Tough die-cast body that stands up to the rigors of the road
- A versatile octave fuzz that gives you up to three octaves at once
- Three different octave modes
- Uses a special diode with a response similar to a germanium diode
Same Day Music is an authorized dealer of
Vox
products.
- Input impedance: 680kO
- Output impedance: 2.2k O
- Connections: INPUT jack (guitar input), OUTPUT jack (line output)
- Power: AA battery x 6 / AC adapter / DC 9V (Option)
- Consumption current: 14mA
- Battery Life: Approximately 280 hours
- Dimensions: (W x D x H): 87 x 132 x 63 / mm, 3.43 x 5.20 x 2.48 / inch
- Weight: 420 g / 14.81 oz (not including battery)
- Accessories: AA alkaline battery x 6 (for verifying operation)
Same Day Music is an authorized dealer of
Vox
products.