Same Day Music is an
authorized Vox dealer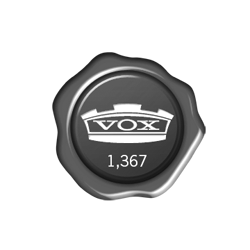 With the classic good looks of its bigger brothers, the new 15-Watt, 1 x 8-inch Pathfinder 15 combo packs a profusion of Vox style and sound into a highly compact and affordable package. Like other family members, it sports typical Vox characteristics like basket-weave vinyl, diamond grille cloth, white piping, gold beading and, of course, "chicken head" pointer knobs.
Performance Control
The Pathfinder 15 houses a wonderful sounding, vintage Tremolo effect and is extremely versatile when it comes to tone. Its distinctive, maroon colored top panel features a Gain Boost switch plus controls for Volume, Gain, Treble, Bass, Tremolo Speed and Tremolo Depth. Both the Gain Boost and the built-in Tremolo are footswitchable via an optional Vox VFS2 dual footswitch, offering you even more performance power.
Bulldog Speakers and More
The Pathfinder 15 produces 15 watts of power that drives a specially voiced 8-inch Vox Bulldog speaker. In addition to a Headphone output that mutes the internal speaker for "silent" practice, the rear panel also has a specially filtered Line Out jack for recording/live work and an External Speaker output as well.
The Pathfinder 15R is identical to the Pathfinder 15 but also features an onboard Spring Reverb system with a Reverb control that adjusts the level of the effect.
Features
- Input Jack: Standard 1/4-inch jack for guitar connection.
- Gain Control: Set higher for crunch and distortion sounds and lower for cleaner tones.
- Boost Switch: Press in for more gain and distortion. Press out for cleaner sounds. You can turn this function on and off remotely with the optional VFS2 Footswitch.
- Volume Control: Controls the overall volume. Set high for clean sounds. Lower the level when setting the Gain control high for distortion.
- Treble Control: Adjusts the higher frequencies or treble in your tone, from soft and full at one extreme to bright and cutting at the other.
- Bass Control: Adjusts the lower frequencies or bass in your tone, from warm and light at one extreme to dark and heavy at the other.
- Tremolo Speed Control: Controls the speed at which the built in tremolo oscillates.
- Tremolo Depth Control: Controls the intensity of the built in tremolo.
- Boost/Tremolo foot switch jack: For the connection to the optional VFS2 dual On/Off footswitch with which you can turn both the Boost and the Tremolo functions on and off independently.
- Power ON/OFF switch & LED: On/Off switch for mains (AC) power to amplifier. Plus power indicator LED.
- External Speaker Output jack: For connection to an alternative speaker cabinet.
- Headphone Output jack: The headphone jack on the rear panel mutes the built-in speaker and lets the guitarist play "silently" at any time.
- Line Output jack: Specially filtered line level signal for recording/live work.
- The usual Vox cosmetic refinements: the gold logo, basket-weave vinyl, white piping, gold facial strip and the diamond fret cloth.
- Specially designed "Blue" speaker
- Pointer Knobs
- Vox Handle
* Note: Pathfinder 15R has one extra control for Reverb level
* Specification subject to change
Same Day Music is an authorized dealer of
Vox
products.