Same Day Music is an
authorized Wi Digital Wireless Systems dealer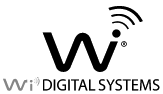 The Wi Digital JMWAL35 AudioLink digital instrument wireless system is the smallest most advanced stereo digital wireless system and works for every instrument in the band! Along with having amazing features and CD quality uncompressed audio, the entire AudioLink system can fit in the palm of your hand!
Package Includes:
- Wi AudioLink transmitter with 1/8" TRS input for instruments
- Wi AudioLink receiver
- Two 1/8 to 1/4" TRS Y-split stereo cables
- Two 1/8 to 1/4" TRS mono cables
- USB power cable
- Universal USB power adapter
- Hard shell carrying case
- User guide
The Wi AudioLink instrument system is not just another wireless guitar rig. It gives every member in the band the wireless mobility they want without sacrificing the audio clarity they need. This high-quality 2.4GHz stereo digital wireless music instruments system provides up to 100 feet of secure, un-compressed 16bit, 48kHz CD quality wireless audio connectivity and operates without radio frequency (RF) interference, signal loss, or crackle inherent in UHF/VHF systems.
Crisp Highs and Thundering Low Tones
The Wi AudioLink's 15Hz to 20kHz frequency response covers the full harmonic spectrum of musical instruments including guitars, keyboards, pianos, woodwinds, brass, percussion and strings; and delivers crisp highs and thundering low tones to satisfy the most demanding musicians.
Simple, Fast Setup, Elegant, Ultra-Light Design
The Wi AudioLink is the first stereo digital wireless system ever to combine all the features required for musical instruments and in-ear monitoring in an elegant, pocket portable, rugged, lightweight design. This combination of audio performance, simplified setup and portability lets you set up quickly and easily!
- No complicated frequencies to assign
- No heavy cables to hoist or route
- No tangle of speaker cables
- No bulky gear to haul
- No clumsy antennas
- No knobs to tweak
Two Internal Antennas
The Wi AudioLink transmitter and receiver each have two internal antennas that seek the signal individually for fewer dropouts. In the rare event of a dropout, the 'Auto-Mute' feature kicks in to prevent intermittent static.
Extreme Power Flexibility
The Wi AudioLink power source's flexible design boasts four power options:
- Internal rechargeable battery for 4-to-6 hours of battery operation.
- AA USB battery adapter (optional) provides up to 13 hours of extended operation.
- Universal AC power adapter for continuous operation.
- USB bus power to charge and operate your Wi AudioLink.
Audio Signal Routing
Jangus Music's audio routing feature allows musicians to send the audio output from their instrument to up to 8 different digital wireless receivers sequentially with a simple press of the Link button. This powerful feature eliminates the hassle of removing, swapping or disconnecting cables.
Ultimate Cross Platform Compatibility (Mac/PC/TabletPC/iPod/iPad/iPhone)
The Wi AudioLink system is designed to remove all communication barriers between your musical gear and personal computers. This dynamic system can be linked to any MAC, PC, Tablet PC or iPad using the optional Wi USB AudioLink adapter (JM-UST01) and to iPod, iPad and iPhone using the optional Wi Pad Audiolink adapter (JM-IPT01). The Wi AudioLink receiver puts all of your computer's essential audio controls including volume, mute and audio track control in the palm of your hand.
Supported Instruments
- Electric acoustic guitars
- Electric lead guitars (passive and active)
- Electric bass guitars (passive and active)
- Electric violins and upright bass
- Electronic wind instruments
- Electronic drums and percussion
- Digital pianos and keyboards
- Guitar foot pedals and multi-effects
- Amplifiers and powered monitors
- Mixers and live sound systems
- DJ gear and samplers
- Digital multitrack recorders
- Studio monitor headphones
- In-ear personal monitors
- MP3 players and devices with headphone jack
Same Day Music is an authorized dealer of
Wi Digital Wireless Systems
products.