Same Day Music is an
authorized Wi Digital Wireless Systems dealer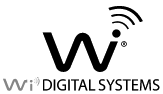 The Wi Digital AudioLink iM JMWAL35 digital wireless system is the first stereo digital wireless audio system to combine all the features required for musical instruments, audio monitoring, silent practice, iPod, iPad and iPhone wireless docking, DJ, virtual instruments, wireless studio audio setups, Apple TV, AirPort Express and AirPort Extreme shared wireless audio setups and audio line level applications in a small, rugged, lightweight design. The entire system can fit into the palm of your hand!
Package Includes:
- One AudioLink Transmitter with 1/8" TRS input for instruments
- One AudioLink receiver
- One JMPT01 Pad AudioLink Transmitter for iPod, iPad and iPhone
- Two 1/8 to 1/4" TRS Y-split stereo cables
- Two 1/8 to 1/4" TRS mono cables
- One 1/8 to 1/8" TRS stereo cable & 1/4" adapter
- USB power cable
- Universal USB power adapter
- Hard shell carrying case
- User Guide and Quick User Guide
Includes the JMIPT01 Audiolink Transmitter for direct connection to iPads, iPods, iPhones, and powers off the host device. Perect for flawless, full-frequency stereo wireless transmission of the audio signal to sound systems, recorders, or stereo receivers.
Weighing only 1.08 oz, this plug-and-play, visually unobtrusive, rugged, wearable system offers intuitive function buttons and easy-to-read LEDs that display operation mode, power, and battery life status. This powerful, dual internal antennas, frequency diversity, 2.4 GHz stereo digital wireless system operates without radio frequency (RF) interference inherent in UHF/VHF systems and provides up to 100 feet of secure, uncompressed 16-bit, 48 kHz wireless audio connectivity with a wide 15 Hz to 20 kHz frequency response, delivering crisp highs and thundering low tones that will satisfy the most demanding musicians.
The included AudioLink audio interface is designed to wirelessly integrate your iPod, iPad and iPhone on stage, in your studio or at home with your musical gear. This dynamic wireless docking solution puts all of your iPod, iPad and iPhone essential audio controls including volume, mute, track control, in the palm of your hand.
This combination of simplified setup and portability lets you set up quickly and easily!
- No complicated frequencies to assign
- No heavy cables to hoist or route
- No clumsy antennas
- No knobs to tweak
- No bulky gear to haul
Same Day Music is an authorized dealer of
Wi Digital Wireless Systems
products.