Same Day Music is an
authorized Wi Digital Wireless Systems dealer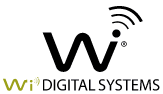 Delivering unmatched value, comfort, sound quality and secure fit, the Wi AudioStream EL2 pocket portable stereo digital wireless solution offers exceptional value and flexibility. Weighing in at only 1.08 oz, this high-quality, plug-and-play system quickly interchanges from an ear-worn microphone to lavalier mic to audio monitoring system or VoIP device with a simple press of a button and swap of accessories, giving you the versatility and value of an all-in-one wireless solution for all types of sound system and computer applications. This fast to set up, high-quality 2.4 GHz stereo digital wireless system provides up to 100 feet of secure, uncompressed 16-bit, 48 kHz wireless audio connectivity and operates without radio frequency (RF) interference, signal loss, or crackle inherent in UHF/VHF systems.
Package Includes:
- Wi AudioStream transmitter and receiver
- Wi Sure-Fit Earset EL microphone
- Wi Sure-Fit lavalier microphone
- Wi Simple-Twist omnidirectional mic capsule
- Wi Simple-Twist cardioid mic capsule
- One (1) 1/8" to 1/8" TRS stereo cable with 1/4" detachable adapter
- One (1) 1/8" to 1/8" Y-split TRS dual mic input cable
- One (1) 1/8" to 1/4" Y-split TRS stereo cable
- One (1) 1/8" TRS to XLR mono cable
- Detachable Earset cable
- Detachable lavalier cable
- Earset/lavalier cable clip
- Camera hot shoe adapter & clip
- Mic rubber Surfacet mount
- Mic windscreens
- Universal USB power adapter
- USB power cable
- Hard shell carrying case
- User guide
- Quick User guide
Simple, Elegant, Ultra-Light Design
This elegant, ultra-light, pocket-size digital wireless system is the first ever to combine all the features required for mono and stereo mini microphones and in-ear monitoring applications in a pocket-portable, ultra-small, rugged, lightweight design. This combination of audio performance, simplified setup and portability lets you set up quickly and easily!
Maximum Audio Input Connectivity
The Wi AudioStream EL2 transmitter boasts three different power-up modes to support stereo Line-in, mono mic in, or stereo mic in. The Wi AudioStream's 15 Hz to 20 kHz frequency response covers the full harmonic spectrum of vocals and musical instruments to deliver crisp highs and thundering low tones that will satisfy the most demanding users.
Ultimate Cross-Platform Compatibility With Integrated Podcasting & VoIP Capability
The Wi AudioStream EL2 system is designed to remove all communication barriers between your gear, personal computers, tablet PC, iPad and MP3 players. This dynamic system can be linked to any PC or Mac using the optional Wi USB AudioLink adapter.
The Wi AudioStream receiver puts all of your computer's essential audio controls including volume, mute and audio track control in the palm of your hand. With the built-in MIC on the Wi AudioStream receiver, you can use the same product to conduct video-conferences, podcasting, and voice chats over the Internet or take advantage of current speech recognition technology in your studio. Just plug in your favorite headphones or in-ear monitors to the Wi AudioStream receiver and connect the optional Wi USB transmitter to the USB port on your Mac, PC or iPad and get started immediately.
Extreme Power Flexibility
The Wi AudioStream EL2 power source's flexible design boasts an internal rechargeable battery for 4-6 hours of battery operation. Add the optional USB AA battery adapter for up to 13 hours of extended use. No need to power down the system to charge or replace the batteries. You can even use USB bus power to charge and operate your Wi AudioStream EL2 system.
Audio Matrix Signal Routing
The audio routing feature allows users to send the audio output from their instrument to up to eight different digital wireless receivers sequentially with a simple press of the Link button. This powerful feature completely eliminates the hassle of swapping or disconnecting cables.
Earset and Lavalier System
The Wi AudioStream's ultra-lightweight system supports discreet, unobstrusive miking applications with comfort and flexibility. Designed for active and energetic users, the Wi Sure-Fit EL2 Earset can easily be adjusted to capture the closest near-the-mouth vocals clearly and consistently while keeping the boom securely in place even when the head moves. The ultra-thin lavalier easily accommodates alternative mounting applications such as ties, shirts, in hair and behind the button. Ideal for broadcasters, pastors, artists, fitness instructors, speaking and singing performers.
Two Users Dual-input Miking Simultaneous Vocals & Instruments Miking
The Wi AudioStream EL2 transmitter can support two simultaneous microphones' connection allowing two users to share the same transmitter or configuration of the system for vocal and acoustic instrument miking while transmitting the microphones' audio signals on two separate channels. The Wi AudioStream EL2 lavalier mic is designed to attach easily to any acoustic instrument without impeding body movement or posing any risk to the instrument.
Stereo Vocals and Instruments Miking
Nature is NOT Mono! The Wi AudioStream EL2 is designed to capture the realism, articulation, breathiness and openness of a live sound in stereo for superb sound recording that is full and clean.
In-Ear Personal Monitors and Studio Headphones
The Wi AudioStream EL2 provides the freedom of wireless movement to any conventional studio monitor headphones or in-ear personal monitors. You can use up to 10 Wi AudioStream EL2 systems simultaneously without having to select frequencies. This makes the Wi AudioStream EL2 an excellent choice for performance monitoring including houses of worship and installations requiring assisted-listening devices.
Video Cameras and Handheld Recorders
The Wi AudioStream EL2 brings the convenience of hands-free stereo and dual miking to DSLR, video cameras and handheld recorders. This powerful solution lets you capture superb vocals and amazing ambient sounds easily and accurately. No need to reach out, stretch your arm, worry about position or recording angle.
Same Day Music is an authorized dealer of
Wi Digital Wireless Systems
products.