Same Day Music is an
authorized Whirlwind dealer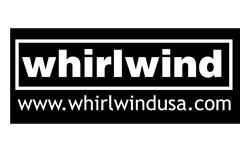 Got a guitar amp with a high-impedance 1/4" jack? Want to plug in an XLR microphone? Get connected with the Whirlwind Little Imp impedance-matching transformer, sporting a female XLR jack and a male 1/4" TS plug.
With a low-impedance input of 250 ohms, and a high-impedance output of 50,000 ohms, the Little Imp is perfect for plugging your XLR microphone into an instrument input, like the 1/4" jack on a guitar amplifier or guitar effects pedal.
Note: since it connects to a TS input jack that doesn't pass phantom power, the Little Imp shouldn't use condenser microphones that require phantom power from the mixer.
Features:
- Used for connecting XLR microphones to 1/4" instrument inputs
- Matches 250-ohm Lo-Z impedances to 50,000-ohm Hi-Z impedances
- Eliminates high-frequency loss when connecting impedance-mismatched gear
Same Day Music is an authorized dealer of
Whirlwind
products.